Chang a 'pest' in cross-strait ties: Ma
VALUED RELATIONS: While praising the MAC minister, the president emphasized the importance of cross-strait relations and of getting rid of those who might ruin them
President Ma Ying-jeou (馬英九) yesterday threw his support behind beleaguered Mainland Affairs Council Minister Wang Yu-chi (王郁琦), while likening his former deputy minister, Chang Hsien-yao (張顯耀), to a "pest" in cross-strait ties.
Legislators across party lines have called on Wang to step down for his "ham-fisted" handling of Chang's case, who has been accused of leaking state secrets and forced to resign.
The president yesterday voiced his approval of Wang's actions, saying: "There is no need for him to resign."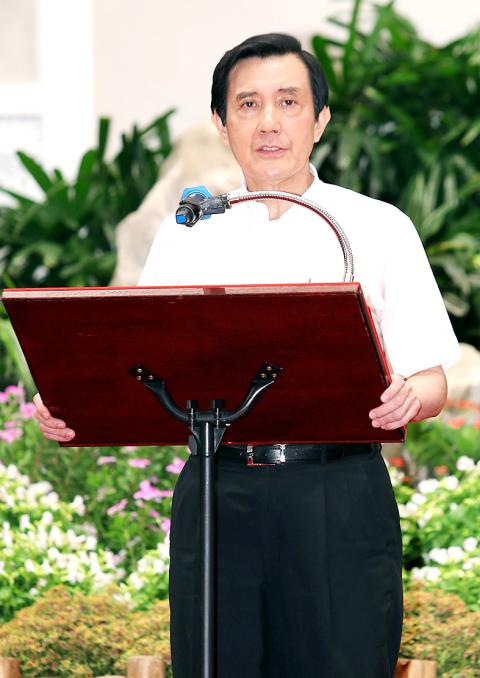 President Ma Ying-jeou yesterday threw his support behind beleaguered Mainland Affairs Council Minister Wang Yu-chi.
Photo: CNA
"It was Wang who took the initiative to investigate Chang after [being tipped off about a possible information leak]. He made decisions swiftly and cooperated with prosecutors," Ma said.
"He also held a press conference that lasted for 70 minutes. It is pretty rare for a government, with respect to this kind of events, to spend so much time explaining," the president said.
Stressing the importance of cross-strait relations, the president compared it to a tree that has to be nurtured, while implying that Chang was a pest that could ruin the relationship.
"For a sapling to grow, you need a gardener to water and fertilize it, and when pests are found, the gardener has to get rid of them," he said.
"The development of cross-strait relations cannot be allowed to stall because of a pest, and we cannot ignore it [the pest] once it has been found," Ma said, adding that Chang's case would not affect progress in cross-strait exchanges.
Responding to Democratic Progressive Party Chairperson Tsai Ing-wen's (蔡英文) call for him to apologize and for national security officials to be held accountable, Ma said that Tsai was "confused about [the issue] and reversing the procedure."
"As Chang is only suspected [of leaking information] rather than having been convicted, we need to adhere to the principle of presumption of innocence," Ma said. "It is strange to ask for someone's apology or demand that they admit to certain mistakes when the result has not yet been determined."
Ma denied that the case involves any political infighting within the administration.
"How could we target him, our own colleague? However, if he committed a crime, we cannot conceal it either," he said.
When asked about the prospect of a meeting with Chinese President Xi Jinping (習近平) following this incident, Ma said his positive attitude toward the meeting, if certain preconditions are met, has not changed.
"As for [Chang's] case, I think in the end it will be clear to everybody that it has nothing to do with the Ma-Xi meeting," he said.
Responding to Ma's statement, DPP spokesman Huang Di-ying (黃帝穎) said it showed a "lack of self-reflection."
"Apologizing for [his administration's handling of] Chang's case is the president's political responsibility, whereas the principle of presumption of innocence is a notion of legal responsibility. Ma conflated the two and used the latter as a political pretext for refusing to apologize," Huang said. "This amounts to ignorance of democratic constitutionalism."
Moreover, comparing Chang to a pest, based on the president's political logic of presumption of innocence, "would then constitute deliberate humiliation," Huang said.
"The absurdity of Ma's logic is eye-opening," he said.
Comments will be moderated. Keep comments relevant to the article. Remarks containing abusive and obscene language, personal attacks of any kind or promotion will be removed and the user banned. Final decision will be at the discretion of the Taipei Times.