Xingtian's ban on incense upsets vendors, not visitors
Taipei's Xingtian Temple (行天宮) saw no fewer visitors yesterday after its new policy banning incense burning and food offerings officially took effect.
However, a drastic decline was seen in the number of vendors selling incense or other items used during prayers outside the temple.
The temple, which attracts an estimated 6 million visitors every year, on Sunday announced that it had secured divine permission to remove the incense burners and tables for food offerings from the temple through throwing poes, a Taiwanese divination method.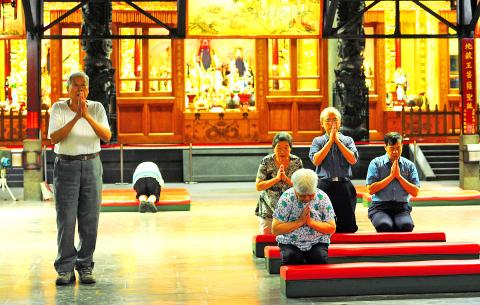 People pray in the Xingtian Temple in Taipei yesterday, after the temple banned incense and offerings of food items.
Photo: Lo Pei-der, Taipei Times
Starting yesterday, visitors need not bring incense or food offerings when coming to worship at the temple, which is dedicated to Guan Gong (關公), a legendary third-century heroic general-turned-deity. Instead, they can pray simply by putting their palms together in a devout fashion.
The management at the temple started removing two large incense burners and 15 tables for food offerings at 3am yesterday. The entire process took only 50 minutes to complete.
An 83-year-old woman surnamed Ku (古) said she agreed with the new policy, adding that it was easier to pray without holding incense in her hands and that the air would be fresher.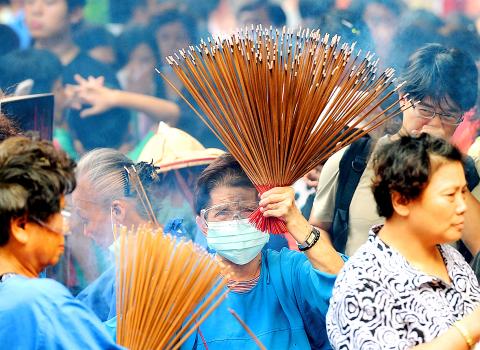 Volunteers wearing surgical masks and goggles offer joss sticks to worshipers at the Xingtian Temple in Taipei on Monday. The temple has asked people to stop burning incense and offering food items starting yesterday.
Photo: Chu Pei-hsiung, Taipei Times
Another woman, surnamed Yang (楊), who has worshiped at the Taoist temple for about 40 years, said that methods of worship should evolve as society progresses.
"The god in the temple still gives blessings even though the temple has never burned joss paper in its offerings and burned only two sticks of incense instead of three during its daily ritual," Yang said.
Some worshipers who were unaware of the change showed up yesterday with fruits and other edible goods, but most agreed the changes were for the better and said they would follow the temple's suggestions.
Meanwhile, a woman surnamed Tsai (蔡), who has been selling snacks, rice cakes and incense to visitors to the temple for more than 50 years, said she began selling flowers after she was informed about the new policy.
However, she said that no one had wanted to buy anything from her all morning.
The owner of a store near Xingtian Temple said her business went downhill because nobody would come to buy any food offerings from her anymore.
She said that the temple management was unwilling to budge when she tried to negotiate with them. She said she may consider closing the store if her business continues to decline.
Comments will be moderated. Keep comments relevant to the article. Remarks containing abusive and obscene language, personal attacks of any kind or promotion will be removed and the user banned. Final decision will be at the discretion of the Taipei Times.