Kaohsiung residents protest plan
Dozens of residents of Greater Kaohsiung's Siaogang District (小港) yesterday rallied outside state-run Chinese Petroleum Corp, Taiwan's (CPC, 中油) Dalinpu (大林埔) activity center to protest against the Ministry of Economic Affairs plan to relocate the city's petrochemical plants to a proposed land-reclamation area covering more than 400 hectares.
In response to the public outcry demanding that the plants be moved to sparsely populated areas to ensure public safety, Minister of Economic Affairs Woody Duh (杜紫軍) on Friday last week said that the ministry is considering moving the petrochemical plants in the Renda Industrial Area to a landfill adjacent to Siaogang District, which forms a part of the 3,000 hectare South Star Plan.
The relocations could be carried out as soon as 2017, according the plan's timetable, Duh said.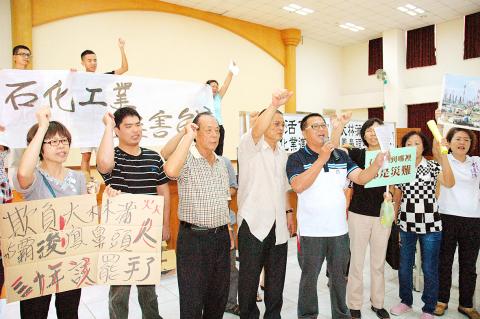 Residents of Greater Kaohsiung's Siaogang District yesterday protest in Kaohsiung against a Ministry of Economic Affairs proposal to relocate the municipality's petrochemical plants to a land-reclamation area.
Photo: Fang Chih-hsien, Taipei Times
Fongsing Borough (鳳興) Warden Hung Fu-hsien (洪富賢) said that the proposed relocations would endanger the health and safety of more than 19,000 residents of the city's six seaside boroughs — Fongsing, Longfong (龍鳳), Fongyuan (鳳源), Fongming (鳳鳴), Fonglin (鳳林) and Fongsen (鳳森).
He said that residents would continue to oppose the plan until a relocation proposal is provided by the ministry and called on the authorities to uphold "residential justice."
Taiwan Water Conservation Union deputy director-general Chiu Chun-hua (邱春華) said that even though the landfill is listed as a reserved site for a free-trade harbor, it was actually set aside for the establishment of a petrochemical zone.
The government and Taiwan International Ports Corp had planned all along to set up the zone, she said.
"Even before the gas pipeline explosions, I saw on the company's Web site a blueprint of the South Star Plan. It showed that the entire Nangsing Road, off the No. 7 freight wharf, had been allocated as a petrochemical zone," she said.
"We strongly oppose any development in this district before the competent authorities carry out thorough assessments of health risks and possible endemics that the pollutants and toxic substances could cause," Chiu added.
Chiu called on Kaohsiung Mayor Chen Chu (陳菊) to deliver on her promise to Dalinpu residents to look out for their rights and best interests when she meets with Premier Jiang Yi-huah (江宜樺) on Friday.
Relocating the petrochemical plants in the city is reportedly on the agenda of that meeting.
Comments will be moderated. Keep comments relevant to the article. Remarks containing abusive and obscene language, personal attacks of any kind or promotion will be removed and the user banned. Final decision will be at the discretion of the Taipei Times.