Relief efforts unite entire nation
NATIONAL EFFORT: Hotels and top companies joined charity groups and individuals rallying to offer assistance and donations to Kaohsiung residents
Civic groups and charity organizations have quickly mobilized members and resources to aid victims and families affected by the series of gas explosions in Greater Kaohsiung from late Thursday night to early yesterday morning.
About 1,200 people have asked for temporary housing, the Greater Kaohsiung Government said, adding that it has set up 10 temporary shelters in schools and activity centers.
Dozens of hotels in the city joined the effort by offering free lodging, as well as laundry and washroom facilities, for people left homeless or whose houses were badly damaged by the blasts.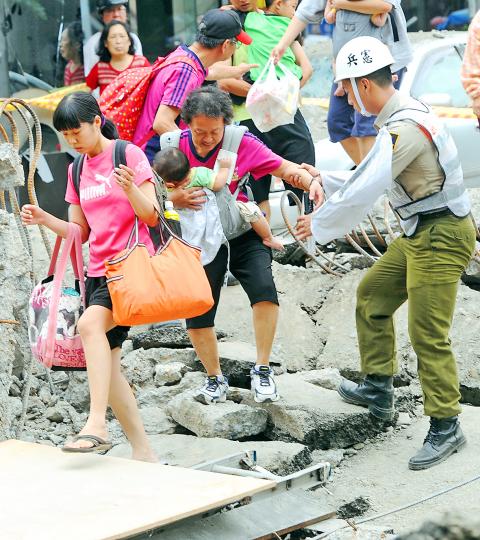 A military police officer helps residents walk on what remains of Greater Kaohsiung's Sanduo 2nd Road yesterday.
Photo: Wang Min-wei, Taipei Times
Netizens lauded the hoteliers for showing compassion and generosity to Kaohsiung residents. The hoteliers included Ahiruyah Guesthouse, Ever Luck Hotel, Harmonious Hotel, Sanduo Business Hotel, Delton Hotel and Hotel R Kaohsiung.
More hotel operators joined the effort later, including Red Residence Hotel, The Lees Hotel, Chateau de Chine Hotel Kaohsiung, Sam Hotel, Ambassador Hotel Kaohsiung, Just Sleep Hotel Kaohsiung Zhongzheng and 85 Skycity Hotel.
More than 12,000 homes had no power and water supply, authorities said.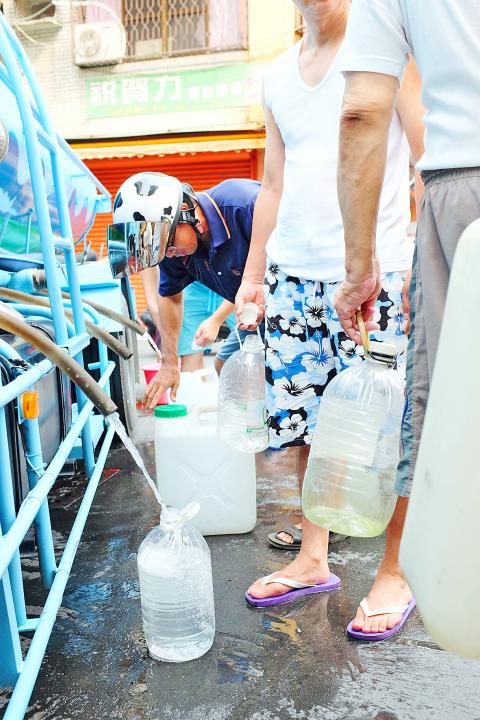 Residents of Greater Kaohsiung's Cianjhen District fill bottles from a water truck yesterday after supplies to some areas were cut off after Thursday's blasts.
Photo: CNA
A spokesperson for the Buddhist Compassion Relief Tzu Chi Foundation said its coordinating center in Greater Kaohsiung had started distributing relief supplies to the affected households, including delivering 300 portable beds to the area's emergency shelters. The foundation dispatched more than 100 members and volunteers to hospitals to assist the injured, while others went to the mortuary to help the families of deceased victims with funeral arrangements.
Service stations have also been set up near the explosion sites to provide hot meals for firefighters, rescue crewmembers and local residents, the foundation added.
The Kaohsiung branch of the Red Cross Society said it had transported vital supplies, such as blankets, towels, sleeping bags, bottled water, personal hygiene kits and meal pouches to several schools in the area, which are being used as emergency shelters.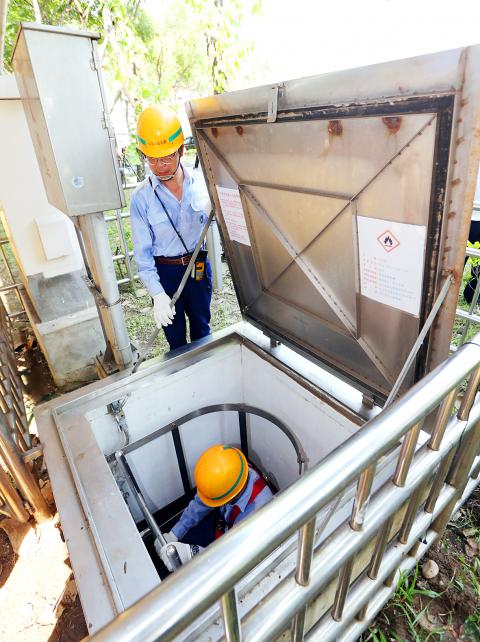 Gas company workers inspect gas storage and distribution installations in Taipei's Neihu District yesterday.
Photo: CNA
The Sunshine Social Welfare Foundation, which specializes in helping burn victims, said it had set up a telephone hotline for emergency assistance and counseling.
Greater Kaohsiung government officials said many charity organizations and social welfare foundations were already in contact and had mobilized their networks to donate emergency supplies and materials to help victims of the accident.
They urged the public not to call the local government's Social Affairs Bureau if they want to make a donation, after the bureau's phone lines were jammed yesterday with calls from people offering help.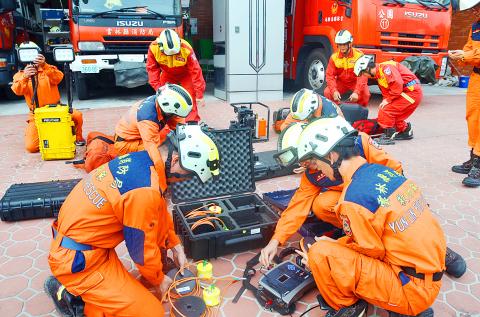 A 10-member team from the Yunlin County Firefighting Department deploys sonar equipment in Greater Kaohsiung yesterday to help with search-and-rescue efforts.
Photo: CNA
The bureau has set up an account with the Bank of Kaohsiung's Municipal Treasury Department (高雄銀行公庫部), account number 102103031319, to accept public donations for disaster relief.
Donations from companies and individuals around the nation have also poured in.
Local enterprises donated millions of New Taiwan dollars, including Formosa Plastics Group, one of the nation's leading conglomerates; Advanced Semiconductor Engineering Inc, a leading chip packaging and testing services provider; Hon Hai Group, the world's largest contract electronics maker; electronics conglomerate Kinpo Group; and computer maker Acer Inc.
Smartphone maker HTC Corp, Greater Kaohsiung-based E-United Group, finance-leasing Chailease Holding Co, chip designer MediaTek Inc and Fubon Financial Holding Co also made donations.
Total contributions from these enterprises alone reached nearly NT$145 million (US$4.8 million), while Taiwanese businesses in Beijing and Shanghai donated another NT$10 million.
The Taipei City Government has also established a postal transfer account, with the donated funds to be forwarded to its counterpart in Kaohsiung to help the victims of the accident.
Additional reporting by Jennifer Huang and CNA
Comments will be moderated. Keep comments relevant to the article. Remarks containing abusive and obscene language, personal attacks of any kind or promotion will be removed and the user banned. Final decision will be at the discretion of the Taipei Times.