China enforces strict Tiananmen security drive
Several Google Web sites have been blocked in China, a monitoring service said yesterday, as authorities step up arrests and censorship before the 25th anniversary of the Tiananmen Square crackdown.
A stepped-up police presence is visible on Beijing's streets, while dozens have been detained in the run-up to today's anniversary, when China moves to block any public commemoration.
"I've been ordered to stay close to my house ... so I can't live or work normally," environmental activist Wu Lihong (吳立紅) said, adding that the restrictions were likely to last until Tuesday.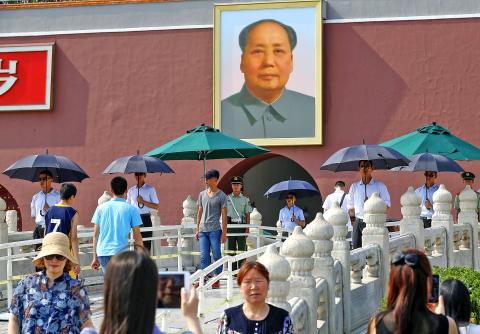 Uniformed paramilitary and plainclothes police with umbrellas stand under a portrait of former Chinese leader Mao Zedong as they keep watch outside the Forbidden City at Tiananmen Square in Beijing yesterday.
Photo: EPA
Police in Beijing on Sunday detained Chinese-Australian artist Guo Jian (郭健), who produced artwork about the crackdown.
The Tiananmen protests were crushed when soldiers killed hundreds — by some estimates more than 1,000 — unarmed civilians.
Amnesty International has denounced the detention as part of a "merciless campaign of repression," adding that "scores" of activists have been detained in recent weeks.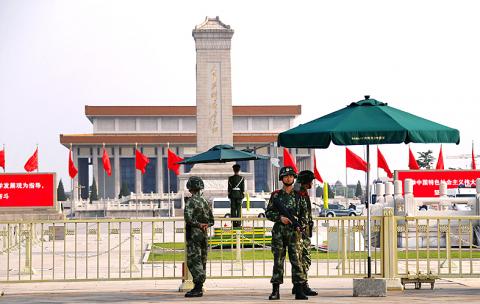 Paramilitary policemen stand guard at the Monument to the People`s Heroes at Tiananmen Square near the Great Hall of the People, ahead of the 25th anniversary of the crackdown on pro-democracy protests, in Beijing yesterday.
Photo: Reuters
Seventeen activists have been detained on criminal charges, while more than 30 others are believed held under house arrest or other forms of detention, the group said.
Those criminally detained include celebrated human rights lawyer Pu Zhiqiang (浦志強), detained last month along with four others on a charge of "picking quarrels and provoking trouble" after attending a private seminar about the crackdown.
Those detained are unlikely to be released until next week, effectively preventing them from marking the anniversary, said Si Weijiang (斯偉江), a friend of Pu.
Police yesterday were stationed at major overpasses in the city, although their numbers were also boosted as part of an anti-terror campaign following deadly attacks in recent months blamed on separatists from the Xinjiang Uighur Autonomous Region.
Beijing authorities have recruited 850,000 citizen volunteers to act as informants in a year-long anti-terrorism campaign, state media reported last week.
China blocks access to a host of Web sites, including YouTube and Twitter, using a system known as the "Great Firewall," and restrictions are tightened before dates the government considers sensitive.
The Chinese Communist Party blocks public discussion of the June 4 crackdown.
Overseas versions of Google, accessible in China after the technology giant partially withdrew from there in 2010, have now been blocked, according to monitoring group GreatFire.org.
Comments will be moderated. Keep comments relevant to the article. Remarks containing abusive and obscene language, personal attacks of any kind or promotion will be removed and the user banned. Final decision will be at the discretion of the Taipei Times.