Ma must support Chinese democracy, advocates say
'HE IS A LIAR': Activists said although Chinese democracy is crucial for Taiwan's future, Ma has toned down any criticism when marking the Tiananmen Square Massacre anniversary
Advocates yesterday called on Taiwanese, President Ma Ying-jeou (馬英九) in particular, to show strong support for China's democratization on the eve of the 25th anniversary of the Tiananmen Square Massacre, saying that China's democratic movement will be crucial to Taiwan's future.
"No democratic country in the world would stand on the sidelines as its neighbors abuse human rights. In the case of Taiwan, China's democratization matters for Taiwan's future," Association of Taiwan Students' Promotion of Chinese Democratization director Henry Kwok (郭豫謙) told a press conference in Taipei.
Kwok's association is among dozens of co-organizers, mostly civic groups, of a rally and a candlelight vigil to be held tonight at Liberty Square in Taipei to commemorate the massacre of Chinese democracy protesters in 1989.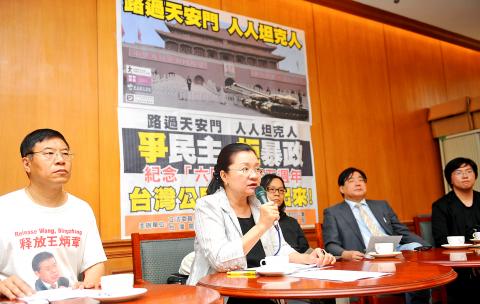 Democratic Progressive Party Legislator Tien Chiu-chin, second left, speaks at a press conference in Taipei yesterday about a memorial activity to be held today to mark the 25th anniversary of the 1989 crackdown on pro-democracy protests in Beijing.
Photo: Chang Chia-ming, Taipei Times
As Ma's position on the massacre, which remains a taboo subject in China, would be symbolic, Kwok said the organizers have invited Ma to attend the evening rally to express Taiwan's firm support of the Chinese people's fight for democracy.
However, Ma, who used to express strong vocal support for Chinese democracy, has been a disappointment since taking office in 2008, Taiwan Association for China Human Rights chairman Yang Hsien-hung (楊憲宏) said.
In an interview with the Chinese-language China Times published in 2005, Ma said that if he were elected president, he would conduct no cross-strait negotiations before Beijing redresses its mishandling of the incident and pledged that he would support Chinese dissidents and Falung Gong, Yang said, adding that Ma's annual statement for the anniversary of the tragedy has been less critical of Beijing in recent years.
"He is a liar. Everyone can see that now," Yang said.
"A democratized China would most likely benefit Taiwan and increase Taiwanese people's sense of security, especially when we have witnessed democracy in Taiwan backsliding due to China's influence on almost every front — media, economy and culture … you name it," National Chengchi University professor Anthony Yeh (葉浩) said.
New School for Democracy representative Wang Hsing-chung (王興中) raised concerns about Beijing's recent crackdown against anyone who promoted democracy and discussed the massacre.
Wang said that at least 82 people across China have been questioned by authorities and at least 40 of them have been either detained or prosecuted.
"I would say that if we do not support democratic movement in Hong Kong and China, Taiwan could be the next victim of China's authoritarianism," Wang said.
In an effort to support China's democratic movement, Wang said the New School for Democracy plans to establish a human rights lawyer group and a volunteer group for Chinese political prisoners.
Wang Bingwu (王炳武), brother of imprisoned Chinese dissident Wang Bingzhang (王炳章), said his brother's life sentence for advocating democracy showed why democracy, freedom, human rights and the rule of law are desperately needed in China.
Wang Bingzhang, who received his medical doctorate in 1982 in Canada and organized democracy movements in North America, was kidnapped in Vietnam in 2002 and given a life sentence in 2003 in a closed trial after being charged with terrorism and spying for Taiwan.
The National Security Bureau said in December last year that Wang Bingzhang had never been a spy for Taiwan.
Comments will be moderated. Keep comments relevant to the article. Remarks containing abusive and obscene language, personal attacks of any kind or promotion will be removed and the user banned. Final decision will be at the discretion of the Taipei Times.