Police to deploy full-time at MRT stations in Taipei
SECURITY OVERHAUL: The Legislative Yuan on Friday said that the National Police Agency should boost the numbers of officers at all train stations and airports
Police officers from precincts in Taipei and New Taipei City are to be permanently deployed at each of the Taipei MRT commuter rail system's 109 stations to ensure "freedom from fear" as the nation continues to reel following Wednesday's brutal knife attack that left four dead and 24 injured.
Taipei Mayor Hau Lung-bin (郝龍斌) announced the new policy on Friday, adding that the two cities are cooperating closely.
However, Hau did not specify when the new policy will go into effect.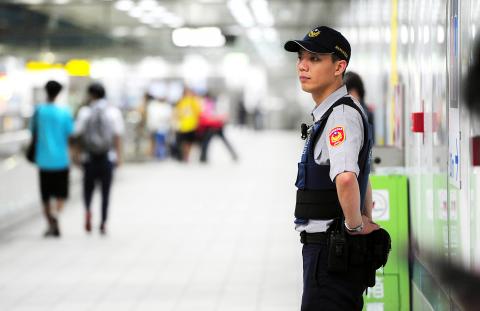 A police officer yesterday patrols Jiangzicui MRT Station on Taipei's Bannan Line where four people were killed on Wednesday.
Photo: Lo Pei-der, Taipei Times
His comments were a response to questions over the incident at the Taipei City Council.
Taipei City Councilor Ho Chih-wei (何志偉) said the Taipei Rapid Transit Corp (TRTC, 台北捷運公司), which operates the MRT, should make public the audio and video recordings from the incident so that city councilors can put questions to the municipal government based on all the facts.
TRTC president Tan Gwa-guang (譚國光) said that since the case is still under investigation, the recordings can be provided only with consent from judicial authorities.
The driver of the train, in which 21-year-old college student Cheng Chieh (鄭捷) allegedly went on a killing spree with a fruit knife on Wednesday, and the chief of Jiangzicui Station, where Cheng was apprehended, have been taken off duty for three days and could not be reached.
The Legislative Yuan on Friday released a joint statement signed by all political parties calling for the National Police Agency to thoroughly re-examine and increase police deployment on metro systems, railways and airports.
Meanwhile, police yesterday said the 110 police emergency service line and the 119 fire emergency telephone line have received increased numbers of calls over the past couple of days from members of the public reporting people and online messages that they considered to be suspicious.
In one case, a 26-year-old man surnamed Lin (林) in Taoyuan was arrested yesterday on charges of terrifying the public after a netizen reported that he posted on Facebook on Thursday: "My turn to kill people, at Kaohsiung MRT after I get discharged from hospital tomorrow."
Lin, who was hospitalized due to a car accident, worked at a retail store in Taoyuan's Jhongli City (中壢). He was quoted by police as saying that he did not really mean to kill people, but that he just wanted to draw attention to his page, adding that he deleted the post five minutes after realizing someone had reposted it.
Additional reporting by Chou Min-hung
Comments will be moderated. Keep comments relevant to the article. Remarks containing abusive and obscene language, personal attacks of any kind or promotion will be removed and the user banned. Final decision will be at the discretion of the Taipei Times.