Family welcomes Zain Dean UK ruling
'JUSTICE WAS SERVED': A British court upheld a Taiwanese ruling that Dean must pay NT$7.55 million to the family of the man he was convicted of killing in a car crash
The family of Huang Chun-te (黃俊德), who died in 2010 in a car crash involving Briton Zain Dean, yesterday expressed the wish that Dean be extradited to Taiwan to serve his sentence after they learned of the ruling on Friday night that Dean must pay compensation to the family.
"We are somewhat gratified with the news [of the ruling in the civil lawsuit], but he [Dean] and his friends still refuse to admit their guilt, don't they?" Huang Ya-hui (黃雅慧), elder sister of Huang Chun-te, said yesterday morning.
She sobbed and said the incident left her in fear for her life.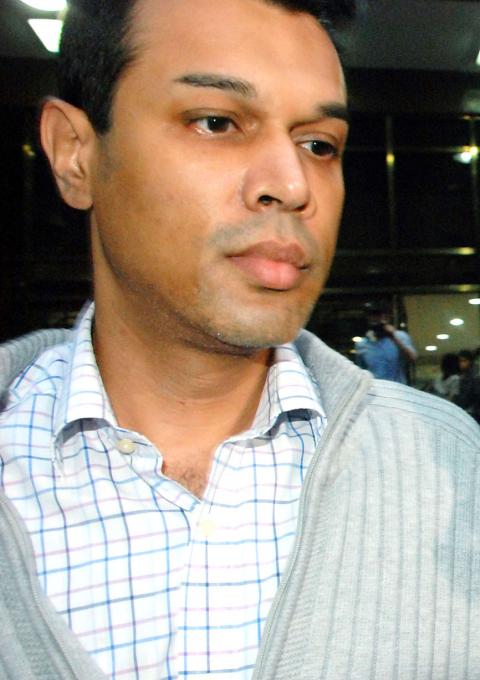 Briton Zain Dean is pictured in 2010. A British court on Friday upheld a Taiwanese ruling that Dean must pay NT$7.55 million, plus interest, to the family of the man he was convicted of killing in a car crash.
Photo: CNA
"It's been four years since my brother was killed, but I still feel scared. When I ride a motorcycle, I am afraid of being hit from behind," she said.
The High Court of Justice in London on Friday ruled in favor of the family in the lawsuit against Dean, which was filed by the nation's representative office in the UK on behalf of the Huang family.
The London court recognized a ruling in Taiwan that said Dean must compensate the family NT$7.55 million (US$250,000).
At 4:30pm on Friday, the British High Court ruled that Dean is liable for NT$9.08 million, which includes NT$7.55 million and interest on four years of arrears, subject to an 8 percent increase for every year the damages are not paid as ruled by a Taiwanese court in February last year, the Central News Agency (CNA) reported from London.
Dean may file a notice of appeal within 14 days, the report said.
The Ministry of Foreign Affairs and the Ministry of Justice praised the decision.
"After years of effort to pursue the overseas lawsuit, justice was served," Deputy Minister of Justice Chen Ming-tang (陳明堂) said.
Chen said the ruling was significant because it was the first case in recent history where the UK has acknowledged a Taiwanese court's ruling.
"It was a great example of mutual judicial cooperation," Chen said.
Representative to the US Shen Lyu-shun (沈呂巡), who had handled the case when he was stationed in the UK beginning in December 2011 before he was transferred to the US in March, told CNA in Washington that the ruling benefited the nation's legal status.
Dean was sentenced to four years in prison in July 2012.
He was convicted of hitting Huang Chun-te, a 31-year-old newspaper deliveryman, while driving under the influence of alcohol. Dean fled Taiwan in August 2012 using a friend's passport shortly before his sentence was set to begin.
Scottish police arrested Dean in Edinburgh in October last year and he has been in custody since, while Taiwan has tried to have him extradited to serve his sentence after it signed a memorandum of understanding that month with the UK regarding his extradition.
Although Dean's lawyer has tried to bring Taiwan's status into question in the trials, British prosecutors accepted Taiwan's legal status as a territory, Shen said.
Cheng Chia-ho (鄭家和), Huang Ya-hui's husband, yesterday raised concerns that Dean might have transferred his assets to avoid liability while on the run over the years, adding that the Huang family wished to see him imprisoned in Taiwan.
"Dean must be punished according to law for the wrong he has done," Cheng said.
A ruling on his extradition is scheduled to be made at an Edinburgh court on June 11.
Comments will be moderated. Keep comments relevant to the article. Remarks containing abusive and obscene language, personal attacks of any kind or promotion will be removed and the user banned. Final decision will be at the discretion of the Taipei Times.