Vietnamese representative apologizes over riot losses
'REGRET AND APOLOGIES': Bui Trong Van said that compensation to the 107 affected Taiwanese businesses could include reducing taxes or debt relief on loans
Vietnam's chief envoy to Taiwan yesterday apologized on behalf of his government to Taiwanese businesses that suffered losses as a result of the anti-China protests in his country and said his government is considering offering tax cuts and other forms of compensation to those enterprises.
Vietnam Economic and Cultural Office in Taipei Director Bui Trong Van expressed "deep regret and apologies" to the investors on behalf of Hanoi at a press conference at the Ministry of Foreign Affairs in Taipei.
He had previously offered a "personal" apology over the losses suffered by Taiwanese in his country, but was summoned yesterday by Minister of Foreign Affairs David Lin (林永樂), who asked that the Vietnamese government apologize, punish those responsible and compensate the affected investors.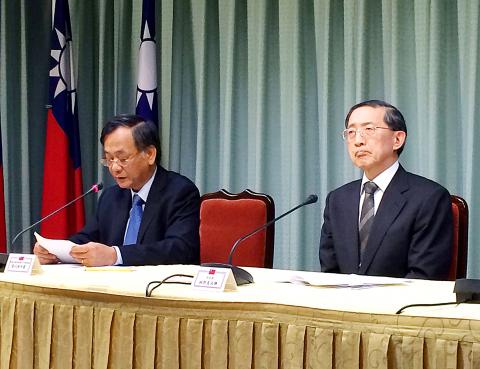 Minister of Foreign Affairs David Lin, right, listens as Vietnamese Representative to Taiwan Bui Trong Van reads a statement regarding recent violence against Taiwanese in Vietnam during a joint press conference in Taipei yesterday.
Photo: CNA
Over the past few days, Vietnamese officials have been meeting with foreign investors to assess the losses and will take steps to compensate these businesses, Bui said.
Reducing or waiving land or business taxes could be one of the forms of compensation, which may also include offering the affected businesses concessional loans or debt relief on overdue loans, he said.
"The most important goal is to help companies resume normal production activities as soon as possible," Bui said.
"It is in the interests of foreign-funded companies, the Vietnamese workers and the Vietnamese government and the country," he said.
Lin said a deputy minister from the Ministry of Economic Affairs will lead a delegation to Vietnam this week with the aim of expediting the compensation arrangements.
"After our Ministry of Economic Affairs delegation arrives in Vietnam, we hope to gain a better understanding of and further study all compensation matters," Lin said.
Anti-China protests erupted on Tuesday last week in Vietnam after China earlier this month deployed an oil rig near the Paracel Islands (Xisha Islands, 西沙群島), an area claimed by both Beijing and Hanoi, as well as by Taiwan.
Many factories in industrial parks in Vietnam, including several run by Taiwanese companies, were either set alight or vandalized during the protests.
Early estimates show that 107 Taiwanese businesses were vandalized, with about 10 factories having to suspend operations because of the damage.
Meanwhile, in Hanoi at a press briefing on Saturday evening, Vietnamese government officials said that Hanoi is sympathetic toward Taiwanese and other foreign investors whose businesses have been affected by the anti-China rioting there and has promised to help them resume production.
Do Nhat Hoang, director of Vietnam's Bureau for Management of Foreign Investment under the Ministry of Planning and Investment, said that the damage to Taiwanese and other foreign companies had occurred as a result of misunderstandings and provocation by "lawless individuals."
Vietnamese authorities are sympathetic toward those investors and are taking appropriate measures to assist them in restarting production, he said in response to questions by officials of Taiwan's representative office in Hanoi.
Comments will be moderated. Keep comments relevant to the article. Remarks containing abusive and obscene language, personal attacks of any kind or promotion will be removed and the user banned. Final decision will be at the discretion of the Taipei Times.