Obama warns North Korea of risk of more sanctions
WORDS OF COMFORT: The US leader also mentioned two very sensitive topics in South Korea — the use of 'comfort women' during World War II and a ferry disaster
Showing unity against North Korean provocations, US President Barack Obama yesterday said it may be time to consider sanctions with "even more bite"' against North Korea as its threatens its fourth nuclear test.
South Korean President Park Geun-hye said any test would trigger a regional nuclear arms race.
At a joint news conference with Park, Obama said North Korea will get "nothing except further isolation" if it proceeds with its threatened test. However, he also acknowledged there are limits to what effects additional penalties can have on the country.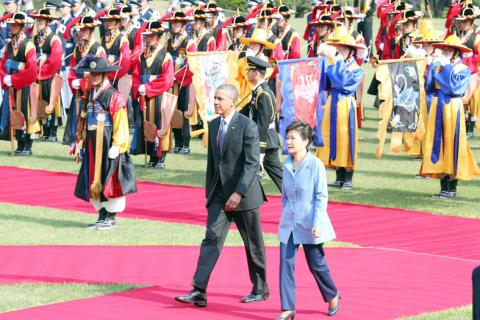 US President Barack Obama, left, and South Korean President Park Geun-hye walk during a welcoming ceremony at the presidential office in Seoul yesterday.
Photo: EPA
"North Korea already is the most isolated country in the world, by far," Obama said. "Its people suffer terribly because of the decisions its leaders have made. And we are not going to find a magic bullet that solves this problem overnight."
Park struck a harsher tone, saying such a test would bring "fundamental change" to the region's security landscape and trigger a nuclear arms race as countries hurry to match the North's nuclear capabilities. She said such an outcome would make it fruitless to resume negotiations with the North aimed at getting it to abandon its nuclear weapons and its nuclear program.
Park said Seoul has assessed that the North is "fully ready now" to conduct another nuclear test.
"This is a very tense situation," she said through a translator. "President Obama's visit to South Korea sends a strong message to North Korea that its provocative acts cannot be tolerated."
Obama said the missile technology and nuclear weapons that the North is developing pose a direct threat to South Korea and Japan, as well as to the US.
"We can't waver in our intention. We have to make sure that, in strong concert with our allies, that we are continuing to press North Korea to change its approach," Obama said.
Touching on another sensitive regional issue, Obama gave voice to South Korea's grievances with Japan by calling Japan's use of Korean "comfort women" during World War II a terrible and egregious violation of human rights.
"Those women were violated in ways that even in the midst of war was shocking," the US leader said. "They deserve to be heard, they deserve to be respected."
At the same time, he said Japanese Prime Minister Shinzo Abe recognizes that the past must be acknowledged in full.
Obama also noted that he was visiting at a time of "great sorrow"' and offered the US' deepest condolences to his host over the recent ferry disaster. He said he was donating a magnolia tree from the White House lawn to the high school in honor of the lives that were lost and as a symbol of decades of friendship between the two nations.
Comments will be moderated. Keep comments relevant to the article. Remarks containing abusive and obscene language, personal attacks of any kind or promotion will be removed and the user banned. Final decision will be at the discretion of the Taipei Times.