US ambassador urges China to respect human rights
Outgoing US Ambassador to China Gary Locke yesterday urged Beijing to respect the rights of peaceful political activists and said Washington was deeply concerned about the fate of a minority academic charged with separatism.
At his final news conference as ambassador, Locke said that Washington is "very concerned" about the case of Ilham Tohti, as well as a recent increase in the arrests of social and legal activists and journalists.
Tohti is an economics professor and advocate for the Uighur Muslim minority who was formally arrested and charged with separatism on Tuesday after being taken from his home one month ago.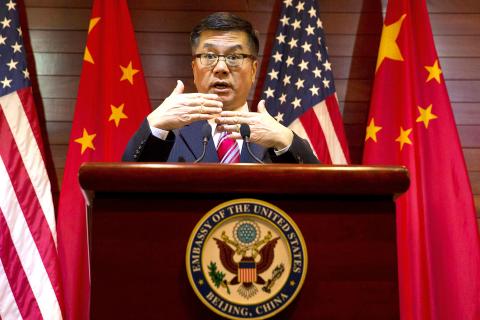 Outgoing US Ambassador to China Gary Locke speaks during a farewell news conference held at the US embassy in Beijing yesterday.
Photo: Reuters
China should value not just the economic welfare of its people, but also their freedom of speech, assembly and religion, Locke said.
"We believe that freedom of expression is a universal right and we very much are concerned about the arrest and detentions of people who are engaged in peaceful advocacy," Locke, accompanied by his wife, Mona, told journalists at the US embassy in Beijing.
US Department of State spokeswoman Jen Psaki on Wednesday also expressed deep concern for Tohti and called for his release.
China's authoritarian communist government brooks no political opposition and routinely rejects such remarks. Beijing says it must take harsh measures against what it calls Islamic radical terrorists fighting for the independence of the northwestern China Uighur homeland of Xinjiang.
Chinese Ministry of Foreign Affairs spokeswoman Hua Chunying (華春瑩) defended Beijing's record at a regular briefing on Wednesday and accused the country's critics of political bias.
Chinese citizens enjoy "unprecedented rights and liberty," Hua said. "We strongly oppose irresponsible comments made by anybody, regardless of which country he comes from."
Locke also repeated the US' calls for restraint in China's maritime territorial disputes with Japan and its Southeast Asian neighbors. He also urged China to accord foreign journalists working in the country the same equitable treatment that Chinese journalists receive in the West, a reference to Beijing's denial of visas to reporters from the New York Times and other news outlets.
A former US commerce secretary and two-term governor of Washington state, Locke, 63, was the first Chinese-American to serve as ambassador to Beijing. Known for his affable, non-confrontational style, Locke placed a high priority on improving embassy efficiency and facilitating bilateral trade during his two-and-a-half years in Beijing at a time when exchanges are growing rapidly.
Comments will be moderated. Keep comments relevant to the article. Remarks containing abusive and obscene language, personal attacks of any kind or promotion will be removed and the user banned. Final decision will be at the discretion of the Taipei Times.