Gender activist recounts trouble at immigration
Gender rights activist Abbygail Wu (吳伊婷) yesterday accused National Immigration Agency officers of discrimination after she was kept at an immigration counter at Taiwan Taoyuan International Airport for a gender check when she was leaving the country last month.
"My passport states that I am female, and the photograph in it is one that I took a week before I was going to leave, but the immigration officer looked at my passport, and looked at me. He had a confused look on his face for about 10 seconds before he asked whether I was a man or a woman," Wu told a press conference at the Legislative Yuan in Taipei.
"I knew where he was coming from, so I told him that I have had an official change of gender, and took out other IDs to show him, but he did not seem satisfied with what I said. He called his supervisor over and I was asked to go into an office, where they retrieved a copy of my household registration record and asked many embarrassing questions before letting me go," she said.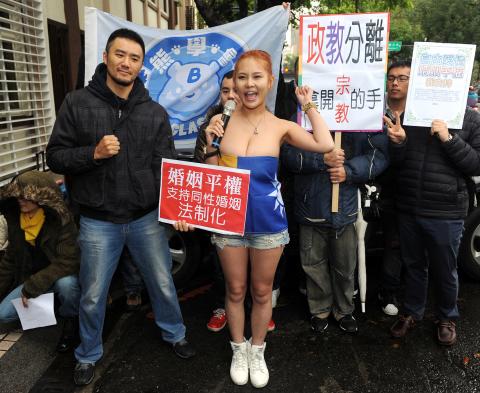 Gay rights activists, accompanied by entertainer Yoyo Ma, center, yesterday stage a protest at the Legislative Yuan against Chinese Nationalist Party (KMT) Legislator Lai Shyh-bao, urging Lai to rethink the composition of the Ministry of Education's gender equality committee.
Photo: Lo Pei-der, Taipei Times
Wu said the actions were discriminating, humiliating and disrespectful of a citizen's privacy.
She compared her experience in Taoyuan with one at San Francisco International Airport when she was heading back to Taiwan.
When a security officer at the San Francisco airport saw a "transgender" sticker on her backpack, "he took the initiative to ask if I would prefer to be searched by a male or female officer when going through the security check," she said.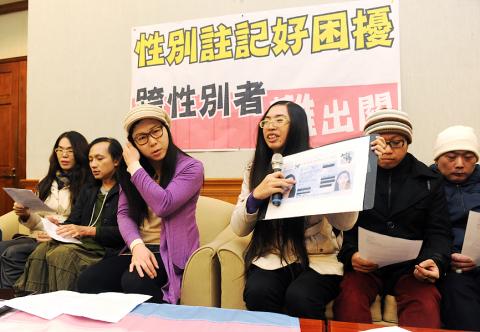 Transgender activist Abbygail Wu, third right, holds a press conference at the legislature in Taipei yesterday, accusing National Immigration Agency officials of making things difficult for her at Taiwan Taoyuan International Airport last month.
Photo: Lo Pei-der, Taipei Times
"Having gone through airport security and immigration checks in Taiwan and the US makes me realize that our immigration officers lack gender awareness," she said.
Awakening Foundation chairperson Chen Yi-chien (陳宜倩) said what happened to Wu was unacceptable as the government and civic groups have put so much effort into raising gender awareness in recent years.
"We have had the Gender Equality Education Act (性別平等教育法) and gender awareness curriculum at school in place for many, many years. President Ma Ying-jeou (馬英九) had signed the two international human rights covenants, while government policies and legislation are also moving toward promoting gender awareness," Chen said.
"It is unacceptable that an immigration officer is so lacking in gender awareness — it is not the public's fault that he cannot update his mindset to 2014, and apparently he is no longer suitable to serve in the position," she said.
Wu's case was not an isolated event.
Gender rights activist Yeh Jo-ying (葉若瑛) told the press conference that a voter was asked to go through a gender check before being allowed to vote at a polling station in Greater Taichung, as the voter "looked" female, but her national ID card said she was male.
Jiyi Ng (吳芷儀), president of the Intersex, Transgender and Transsexual People Care Association, said that the gender listing on IDs has been inconvenient for the transgender population, mainly because people have set ideas about what a man or a woman should look like.
"In many countries, for instance Australia, people are now not required to select a gender, people can choose gender 'X' besides male or female," Ng said. "I think this is the direction we should move toward to make it easier for everyone."
Comments will be moderated. Keep comments relevant to the article. Remarks containing abusive and obscene language, personal attacks of any kind or promotion will be removed and the user banned. Final decision will be at the discretion of the Taipei Times.