Aquino sounds alarm over China
NOT FLATTERING: Talking about regional tensions, Benigno Aquino said the world must remember that the Sudetenland was given to Hitler in a bid to avert war
Philippine President Benigno Aquino III on Tuesday called for nations around the world to do more to support the Philippines in resisting China's assertive claims to the seas near his country, drawing a comparison to the West's failure to support Czechoslovakia against Adolf Hitler's demands for Czech land in 1938.
Like Czechoslovakia, the Philippines faces demands to surrender territory piecemeal to a much stronger foreign power and needs more robust foreign support for the rule of international law if it is to resist, Aquino said in a 90-minute interview in the wood-paneled music room of Malacanang Palace.
"If we say yes to something we believe is wrong now, what guarantee is there that the wrong will not be further exacerbated down the line?" he said.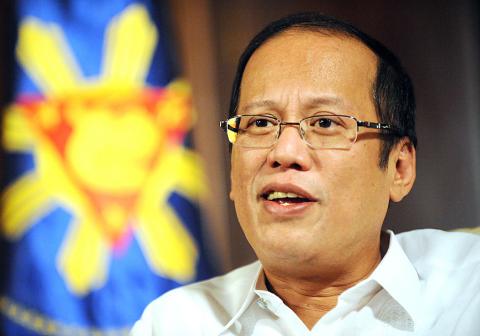 Philippine President Benigno Aquino III speaks during an interview with Agence France-Presse at the Malacanang Palace in Manila on March 20, 2012.
Photo: AFP
He later added: "At what point do you say, 'Enough is enough'? Well, the world has to say it — remember that the Sudetenland was given in an attempt to appease Hitler to prevent World War II."
Aquino's remarks are among the strongest indications yet of alarm among Asian heads of state about China's military buildup and territorial ambitions, and the second time in recent weeks that an Asian leader has volunteered a comparison to the prelude to world wars.
Japanese Prime Minister Shinzo Abe caused a stir in Davos, Switzerland, when he noted last month that Britain and Germany had gone to war in 1914 even though they had close economic ties — much as China and Japan have now.
Japan has been locked in an increasingly tense standoff with China over uninhabited islands in the East China Sea, and even South Korea expressed alarm last year when Beijing announced that it had the right to police the skies above a vast area of ocean, including areas claimed by Japan and South Korea.
While China's efforts to claim rocks, shoals and fishing grounds off the coast of the Philippines in the South China Sea have been less high-profile, the Chinese have moved faster there.
The Philippines already appears to have lost effective control of one of the best-known places of contention, a reef called the Scarborough Shoal — the shoal is known as Huangyan Island (黃岩島) in Taiwan and China, which also claim it — after Philippine forces withdrew during a standoff with China in 2012.
The Philippine forces left as part of a US-mediated deal in which both sides were to pull back while the dispute was negotiated. However, Chinese forces remained and gained control.
In his nearly four years as president, Aquino, 53, has exceeded expectations for what he would be able to accomplish in a nation once known as the "sick man of Asia."
He was a fairly low-key senator when he was propelled into the presidency in 2010 by a wave of national sympathy after his mother, former Philippine president Corazon Aquino, died the year before.
Political analysts say that his administration has fought and reduced the corruption that played a role in holding the Philippines back.
In one practical measure of that change, the country has been able to pave more roads per 100 million pesos (about US$2.2 million) in spending than before.
In the wide-ranging interview on Tuesday, Aquino said he thought the Philippines and the US were close to a long-delayed deal that would allow more US troops to rotate through the Philippines, enhancing his country's security.
However, the subject remains controversial among the political elite in the Philippines, with memories of the country's past as a US possession making them wary of closer military ties.
The US is pushing for the deal to aid in its rebalance to Asia.
Speaking of the Philippines' own tensions with the Chinese, Aquino said his country would not renounce any of its possessions in the sea between it and China.
The difficulties with China extend beyond the arguments over the South China Sea. The Hong Kong government, with enthusiastic backing from the Chinese Ministry of Foreign Affairs in Beijing, plans to stop allowing 14-day visa-free visits by Philippine diplomats and officials starting yesterday.
The sanctions are part of a long-running demand by Hong Kong that the Philippine government apologize over a violent episode in 2010 in which a hostage rescue attempt in Manila failed, leaving eight Hong Kong citizens dead.
In his first public response to the sanctions, Aquino said he had no plans to apologize, saying that doing so could create a legal liability and noting that China had not paid compensation to the families of Filipinos who have died in episodes there.
While recently reading about the predicament of Czechoslovakia's leaders in the late 1930s, he said, he saw a parallel "in a sense" to his own problems now in facing challenges from China. Appeasement did not work in 1938, he said; within six months of the surrender of the Sudetenland, Germany occupied most of the rest of Czechoslovakia.
The Philippines, he said, is determined not to make similar concessions.
"You may have the might," he said of China, "but that does not necessarily make you right."
REACTION
Aquino made a "senseless attack" when he compared China to Nazi Germany over its territorial claims in disputed seas, Xinhua news agency said in a commentary yesterday.
His remarks "exposed his true color as an amateurish politician who was ignorant both of history and reality," Xinhua said.
Meanwhile, Philippine Communications Secretary Sonny Coloma said at a briefing in Manila yesterday that Aquino's remarks were not meant to offend China.
"What we can learn from history, we can compare it to the present and ask if past events are relevant to the present," he said.
Additional reporting by Bloomberg
Comments will be moderated. Keep comments relevant to the article. Remarks containing abusive and obscene language, personal attacks of any kind or promotion will be removed and the user banned. Final decision will be at the discretion of the Taipei Times.