Tainan refuses to adjust curriculum
OBJECTIONS: Greater Tainan Mayor William Lai said the revised school curriculum outlines attempted to 'brainwash' pupils and presented a distorted view of history
Greater Tainan Mayor William Lai (賴清德) said yesterday that his municipality refused to adopt revised high-school curriculum outlines established by the Ministry of Education, adding that all municipal high schools would keep the current outlines.
Lai's remarks came in the wake of the ministry's move on Monday to approve a new high-school curriculum on Chinese literature and social sciences that it said contained "slight adjustments" based on the Constitution.
Among the approved changes were calling the era of Tokyo's rule of Taiwan the "Japanese colonial period" and referring to China as "Mainland China" in textbooks.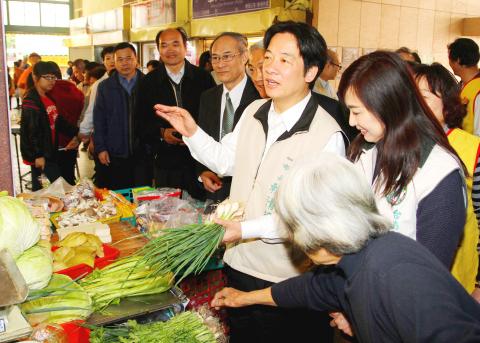 Greater Tainan Mayor William Lai, second right, yesterday inspects a market in Shinshr District.
Photo: CNA
Lai said the ministry's adjustment was made less than two years after the implementation of the current outlines, four years shorter than the legally regulated implementation period of six years, and would baffle teachers and students.
Moreover, the adjustment distorts historical facts and the mainstream understanding of Taiwan's history, and was an attempt to "brainwash" Taiwanese school pupils, he said.
The Democratic Progressive Party (DPP) mayor said the city's four municipal high schools would continue using the current curriculum and urged the national high schools in the city and textbook publishers to challenge the ministry's change of outlines.
Separately yesterday, DPP Chairman Su Tseng-chang (蘇貞昌) said that the DPP caucus would make clear the party's refusal to accept the change in the new legislative session and he urged DPP-governed cities and counties to "take the necessary and stringent measures" against the adjustment.
Pro-Taiwan supporters, historians and the DPP have described the adjustment as a "de-Taiwanization" effort that is trying to instill students with a "Greater China" historical perspective.
Former Academia Historica president Chang Yen-hsien (張炎憲) said the adjustment was an overhaul of the outlines — not "slight changes" — and also failed to tell Taiwan's real history.
The changes focus on rebuilding the historical connection between Taiwan and China as well as the perspective of Han Chinese, and ignore Taiwan's identity and diverse cultures, Chang said.
Chang said the ministry' unilateral act has drawn a strong backlash from historians and high-school teachers.
Comments will be moderated. Keep comments relevant to the article. Remarks containing abusive and obscene language, personal attacks of any kind or promotion will be removed and the user banned. Final decision will be at the discretion of the Taipei Times.