Ministries to discuss Justin Lin case
JURISDICTION: The Ministry of National Defense and the Ministry of Justice will be asked how changes to the military's legal system will affect Justin Lin's case
The issue of whether to allow former World Bank vice president Justin Lin (林毅夫), who defected to China in 1979, to return to Taiwan to visit his relatives is "a question of law," because the statute of limitations had to be taken into account, Control Yuan member Yeh Yao-peng (葉耀鵬) said yesterday.
Yeh confirmed that he has asked Ministry of Justice and Ministry of National Defense officials to attend a meeting about Lin's case at the Control Yuan today.
The officials include the justice ministry's Department of Prosecutorial Affairs Director-General Chang Wen-cheng (張文政) and the defense ministry's Department of Legal Affairs Director-General Chou Chih-jen (周志仁), Yeh said.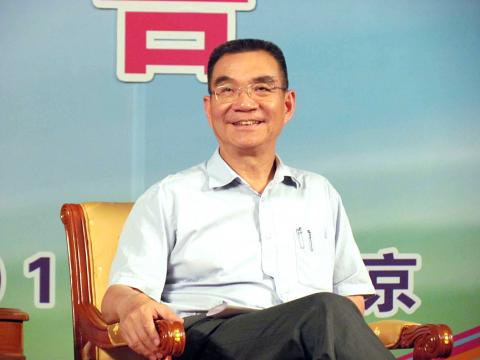 Defector and former World Bank vice president and chief economist Justin Lin smiles during an economics summer camp for Taiwanese youth in Beijing on July 4 last year.
Photo: CNA
There is not any case the statute of limitations — which forbids prosecutors from charging someone with a crime that was committee more than a specific number of years ago — does not apply to, Yeh said.
The idea of the legal system having a statute limiting the time a criminal case can be prosecuted is aimed at protecting an offender's human rights, Yeh said.
"However, in Lin's case, statutory limitation is nothing but a formality because his case is defined [by the defense ministry] as a continuing course of conduct," he added.
In such a case, the period of limitation on prosecution does not begin until the course of conduct terminates.
Yeh said he and Control Yuan member Chao Chang-ping (趙昌平) began soliciting the views of legal experts about Lin's case after an amendment to the Code of Court Martial Procedure (軍事審判法), which transferred jurisdiction of all military criminal cases to the civilian judicial system during peacetime, in August last year.
Following the amendment, Lin's case was handed to the Kinmen branch of the Taiwan High Prosecutors' Office last week, with the court keeping Lin's name on a wanted list for defecting to China in 1979 when he was an army officer.
The defense ministry has said that Lin could face charges of treason should he return to Taiwan based on the Criminal Code of the Armed Forces (陸海空軍刑法), under which defection to "an enemy state" is punishable by death, life imprisonment or a minimum of 10 years in prison.
"Some of the views we have solicited challenged the opinions held by the justice ministry and the defense ministry, so we want to know what the ministries think of the issue after the case came under the civil jurisdiction system," he said.
Yeh rejected the criticism raised by some academics and lawmakers across party lines that he and Chao intended to intervene in the case, according to the Chinese-language Liberty Times (sister paper of the Taipei Times) yesterday.
According to the Liberty Times, officials from both ministries will be required to answer six "leading questions" favorable to Lin.
Among other questions, Control Yuan members will ask whether the ministries have taken into consideration that Lin was in China studying and teaching rather than working for the Chinese Communist Party or any of its affiliates when he was accused of committing treason, the Liberty Times reported.
Yeh said he might file a request for a constitutional interpretation with the Council of Grand Justices over the issue of applicability of the law in the case against Lin.
"Is it not a bit of a contradiction that Taiwan sees China as an enemy state under the Criminal Code of the Armed Forces, while there are so many Taiwanese businesspeople working in China?" Yeh said.
Lin, 60, was born in Yilan County.
While serving as an army captain, he was seen as a role model for his decision to drop out of the prestigious National Taiwan University to join the military.
He defected to China in 1979 by swimming from Kinmen to China's Fujian Province.
Lin received a master's degree in Marxist political economics from Peking University in 1982, and a doctorate in economics from the University of Chicago in 1986.
In 2008, he was named senior vice president and chief economist at the World Bank.
Comments will be moderated. Keep comments relevant to the article. Remarks containing abusive and obscene language, personal attacks of any kind or promotion will be removed and the user banned. Final decision will be at the discretion of the Taipei Times.