High Court judge indicted on charges of corruption
FINANCIALLY SECURE: Prosecutors said they seized NT$27 million in cash and 500 bottles of high-end liquor from the judge's NT$300 million residence
Prosecutors yesterday announced the indictment of Hu Ching-pin (胡景彬), a judge at the Taiwan High Court's Greater Taichung branch, on charges of corruption and owning property of unknown provenance.
The Special Investigation Division (SID) of the Supreme Court, which is in charge of the case, said Hu owns a property worth about NT$300 million (US$10 million) obtained through unidentified sources.
Prosecutors said it was impossible that Hu had earned the money to buy the property from his judge's salary.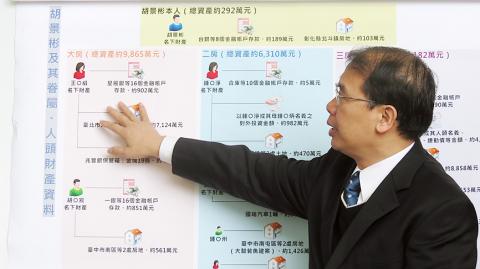 Special Investigation Division Director Lin Fong-wen explains a chart showing the property of Hu Ching-pin, a High Court judge indicted on corruption charges, at a press conference in Greater Taichung yesterday.
Photo: Yang Cheng-chun, Taipei Times
The SID said it received a complaint in 2010 alleging that Hu asked for a bribe of NT$4.5 million from a defendant in a case he was handling, and launched an investigation in November that year.
Hu was arrested in August this year and has been detained by the Taichung District Court ever since.
SID prosecutors seized NT$27 million in cash from his residence.
They also confiscated about 500 bottles of high-end liquor that prosecutors said could have been given to Hu as bribes.
Prosecutors said that as a High Court judge, Hu earns an annual salary of more than NT$2 million, but he has a wife, two mistresses and six children to support.
Prosecutors said Hu spent more than NT$500,000 per year to support his three families.
They also suspect that Hu's wife and mistresses are guilty of money laundering.
They added that Hu's wife owns several properties in Taipei, one of his mistresses owns more than NT$60 million in property and the second mistress has assets worth NT$170 million.
Prosecutors said one of Hu's mistresses, Huang Yueh-chan (黃月蟾), was also indicted on suspicion of involvement in bribery.
Hu first faced criminal charges in 1996 for investing in suspicious banking practices.
After charges were filed against him, he was transferred from Taichung to Tainan and suspended from office for three years by the Judicial Yuan.
He was allowed to return to the bench in 2000 because his case was still under appeal.
He lost that appeal in 2001, but was retained in his post.
Lawyer Chen Po-wen (陳博文), who had served as a judge at the Taipei District Court, said the reason the government paid much higher wages to judges than to other types of public servants was to prevent them from succumbing to the temptation of accepting bribes and making unfair judgements.
"Judges are paid a minimum monthly salary of NT$150,000, which may not be enough to be rich, but is sufficient to be financially secure… However, some of the judges' failure to apply the same moral standards has led to criticism that the judiciary is a place 'where the rich live and the poor die,'" Chen said.
Kao Jung-chih (高榮志), a lawyer and office director for the Judicial Reform Foundation, accused the Judicial Yuan of being too lenient in Hu's case.
"The Judicial Yuan only suspended Hu when it should have dismissed him, allowing a corrupt judge to do nothing while receiving half of his pay. The system is in desperate need of a complete overhaul," Kao said.
Additional reporting by staff writer
Comments will be moderated. Keep comments relevant to the article. Remarks containing abusive and obscene language, personal attacks of any kind or promotion will be removed and the user banned. Final decision will be at the discretion of the Taipei Times.