KMT will face its past honestly: Ma
OPPRESSION REMEMBERED: Victims of the 228 Incident and their relatives attended a Taipei concert, while Kaohsiung Incident survivors also marked Human Rights Day
The Chinese Nationalist Party (KMT) cannot evade its responsibility for past human rights violations and will face up to the past honestly, President Ma Ying-jeou (馬英九) said yesterday.
Speaking at a memorial concert in Taipei on International Human Rights Day, Ma said whether it is the 228 Incident or the White Terror era, his party must face its mistakes with a reflective attitude.
"Incidents of human rights violations have occurred around the world. They have happened here. The government back then and the government now are the same — the KMT. So we cannot evade that and there is no need to do so," the president said.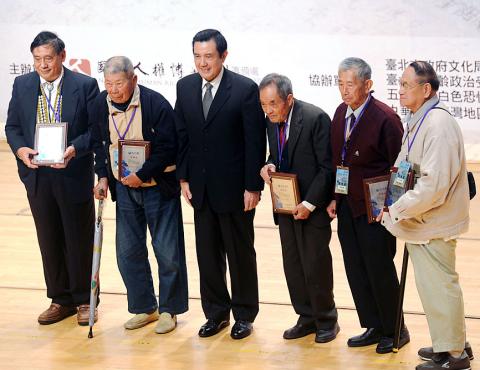 President Ma Ying-jeou, third left, poses with former political prisoners during a ceremony in Taipei yesterday.
Photo: Sam Yeh / AFP
"Let us face the past honestly and reflect with sincerity to restore the truth and give comfort to the families," he said.
The 228 Incident refers to the crackdown launched by the then-KMT regime following an incident in Taipei on Feb. 27, 1947. Martial law was imposed later that year and not lifted until 1987. Thousands of people were killed during that era, which became known as the White Terror, and an estimated 140,000 to 200,000 were imprisoned.
Ma presented certificates of appreciation to several political victims and their relatives who contributed to research and education on the atrocities by donating memorabilia to the government.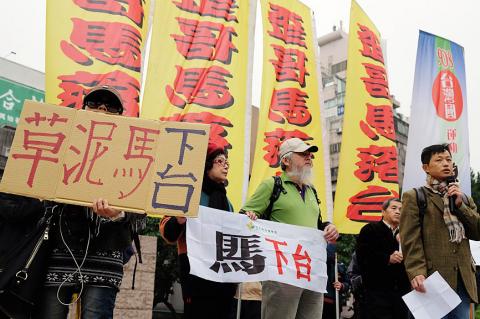 Protesters display placards and flags demanding that President Ma Ying-jeou step down at a rally before yesterday's human rights ceremony in Taipei organized by the Ministry of Culture.
Photo: Sam Yeh / AFP
The concert was attended by more than 300 White Terror victims and their families, as well as Minister of Culture Lung Ying-tai (龍應台).
Performers and descendants of some of the victims performed songs in memory of those who suffered or lost their lives.
Meanwhile, a group of people who were either involved in the Kaohsiung Incident or its aftermath gathered to commemorate Human Rights Day and expressed concern about the human rights situation in Taiwan.
The Kaohsiung Incident refers a government crackdown on organizers and participants in an anti-government parade in the city on Dec. 10, 1979, organized by Formosa Magazine.
Former vice president Annette Lu (呂秀蓮), one of eight people jailed in the ensuing crackdown, accused Ma of inaction on promoting human rights.
"While history must move forward, some people are trying to take the country back [to the authoritarian era]. What concerns me the most on this day is that most people have either forgotten about or do not yet know about Taiwan's past struggles," she said.
Chou Ching-yu (周清玉), wife of former Examination Yuan president Yao Chia-wen (姚嘉文), said that the current administration's infringement of human rights is astonishing and that Taiwanese have to work together to voice their opposition of the injustice.
"That Taiwan's human rights development has been backsliding in recent years is undeniable. The Ma administration has not engaged in substantial action despite its boasts about having ratified a pair of international human rights covenants," Democratic Progressive Party (DPP) Chairman Su Tseng-chang (蘇貞昌) said at a separate event in Pingtung County.
In a Facebook message, former DPP chairperson Tsai Ing-wen (蔡英文) wrote: "What glorifies a country is not its assets, nor the violence it resorts in repressing people. It is its effort to safeguard human rights — the freedoms and equality that every man is entitled to enjoy."
Comments will be moderated. Keep comments relevant to the article. Remarks containing abusive and obscene language, personal attacks of any kind or promotion will be removed and the user banned. Final decision will be at the discretion of the Taipei Times.