Student's death allegedly caused by mother's abuse
Changhua prosecutors yesterday said they were investigating the death of a high school student who was allegedly physically abused and deliberately starved by his mother at a spiritual retreat held by an unorthodox religious organization.
The prosecutors made the remarks following a story by the Chinese-language Apple Daily yesterday about the case.
The prosecutors said they suspected that the death of 18-year-old high-school student Chan Chun-yu (詹淳寓) on June 5 was related to his mother's involvement in a secretive religious group called Sun Moon Bright Light Group (日月明功), based in Changhua County's Hemei Township (和美).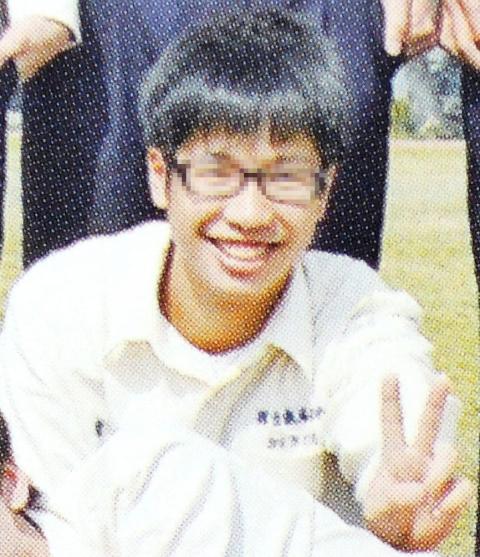 Chan Chun-yu smiles and makes a victory sign in a photograph from his school graduation book.
Photo: Liu Hsiao-hsin, Taipei Times
According to the Apple Daily report, Chan's mother, surnamed Huang (黃), suspected him of using recreational drugs, and said she brought him to the group's retreat center in June in an attempt "to get him off drugs."
Huang allegedly locked Chan in a small room, tied him up with ropes and repeatedly beat him with a rubber hose and bamboo sticks, the media report said, adding that he was fed only small amount of rice porridge and water every day.
Prosecutors yesterday said that Chan lost consciousness and was taken to a hospital. Footage from the hospital's surveillance camera showed that Chan looked emaciated.
An autopsy showed no signs of drug use, while forensic doctors cited malnutrition, physical beatings and multiple organ failure as the cause of death, prosecutors said.
Chan's sister told reporters yesterday that their parents were divorced, and that her mother has been a member of Sun Moon Bright Light Group for many years, becoming increasingly involved in their "unusual" beliefs and practices.
"I know that my brother did not take drugs," she said. "When I was unable to find him in June, my mother told me at the time not to worry, as she was helping him to get off drugs."
The Changhua Prosecutors' Office said it began investigating the case after receiving repeated appeals from Chan family members, who questioned Huang's claim that her son died of a drug overdose.
Prosecutors said they questioned Huang, along with another female devotee surnamed Hsu (許), on Nov. 19.
Hsu was freed on bail of NT$100,000, while Huang was detained following questioning, the prosecutors said, adding that both women have been charged with crimes of intentionally causing injury resulting in death.
Meanwhile, an official with Changhua's Civil Affairs Bureau yesterday said that the Sun Moon Bright Light Group has not registered with the government, and the head of the organization, a woman surnamed Chen (陳), has been notified to come forward for questioning, as an investigation is under way to determine if the group has violated the Maintenance of Social Order Act (社會秩序維護法).
Comments will be moderated. Keep comments relevant to the article. Remarks containing abusive and obscene language, personal attacks of any kind or promotion will be removed and the user banned. Final decision will be at the discretion of the Taipei Times.