British fugitive Zain Dean detained in Scottish capital
British fugitive Zain Dean, who was sentenced to four years in prison in a fatal hit-and-run case and fled Taiwan in August last year, has been detained by a Scottish court, the Ministry of Justice (MOJ) said yesterday, adding that it has requested that the British government return Dean to Taiwan to serve his jail sentence.
Deputy Minister of Justice Chen Ming-tang (陳明堂) told a press conference yesterday afternoon that his ministry was informed through the Ministry of Foreign Affairs' (MOFA) representative offices overseas that Dean was hiding in the UK. After ascertaining Dean's whereabouts, the MOJ requested judicial mutual cooperation with British government agencies, Chen said.
Scottish police arrested Dean in Edinburgh on Oct. 17. After several hearings, an Edinburgh court ordered that Dean be detained based on the Taiwanese judicial authorities' ruling, although he had several times requested an injunction. The Edinburgh court is set to hold a bail hearing today.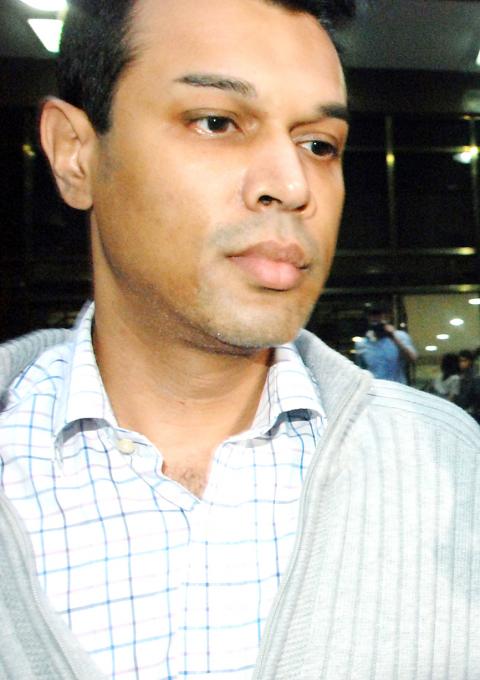 Zain Dean, a British man who fled Taiwan after being convicted in a fatal hit-and-run accident, is pictured in an undated photograph.
Photo: CNA
Chen said the MOJ and the Taipei District Prosecutors' Office have offered information on Dean's case to Scottish prosecutors and hope they will speak on behalf of the Taiwanese judiciary at the hearing.
In terms of civil liability, the Taipei District Court ruled in February that Dean should pay NT$7.55 million (US$256,200) in compensation to the family of the victim.
The Association for Protection of Victims of Criminal Acts will file a request for compulsory execution against Dean's assets in Britain as he has no assets under his name in Taiwan.
The MOJ is asking British judicial authorities to return Dean to Taiwan through a mutual legal assistance process to serve his sentence because Taiwan has no extradition treaty with the UK.
Chen added that the legal process could take a long time and the ministry does not know when it is likely to be completed.
It is the first case of cooperation between judicial authorities in Taiwan and the UK, a MOFA official said on condition of anonymity yesterday.
MOFA spokesperson Anna Kao (高安) said that since Zain absconded to the UK, the Taipei Representative Office in the UK has maintained close contacts with judicial institutions in the UK to facilitate cooperation between both sides in the case.
Dean was convicted in July last year of the death of a newspaper deliveryman in Taipei in March 2010 while allegedly driving under the influence of alcohol.
Before he was to begin serving a four-year jail term, Dean fled Taiwan with UK citizen Christopher David Churcher's passport.
Churcher and Dean's Taiwanese girlfriend, Tung Yu-chi (董玉琪), were sentenced to seven months and five months in jail respectively for helping Dean flee the country. Both have completed their jail terms.
Additional reporting by Shih Hsiu-chuan and CNA
Comments will be moderated. Keep comments relevant to the article. Remarks containing abusive and obscene language, personal attacks of any kind or promotion will be removed and the user banned. Final decision will be at the discretion of the Taipei Times.