TSMC says Morris Chang is retiring as CEO — again
Taiwan Semiconductor Manufacturing Co (TSMC, 台積電) yesterday announced that its board has appointed Mark Liu (劉德音) and Wei Che-chia (魏哲家) to succeed 82-year-old Morris Chang (張忠謀) as president and co-chief executive officers.
However, Chang will remain chairman of the world's biggest contract chipmaker, the company said in a statement.
Liu and Wei are now co-chief operating officers of TSMC, which Chang founded in 1987.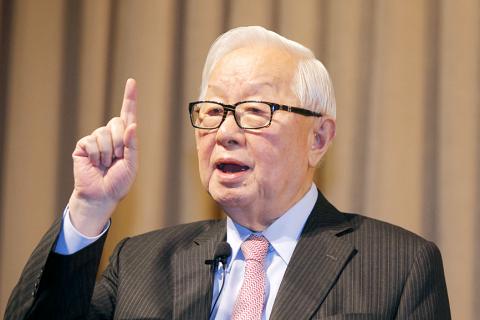 Morris Chang, chairman and chief executive officer of Taiwan Semiconductor Manufacturing Co, gestures during a news briefing in Taipei on July 18.
Photo: Ashley Pon / Bloomberg
Chang told investors last month that he would hand over the job of chief executive — which he has done once before — by June of next year, but he would continue to play a "hands-on" role as chairman.
In May 2005, the Hsinchu-based TSMC said Chang would step down as CEO and hand over the reins to then-TSMC president Rick Tsai (蔡力行), who had been with the company for 15 years, with the change to take effect that July.
Four years later, on June 11, 2009, the company announced that Chang would return as CEO, effective the following day, and Tsai would become president of the New Business Development Organization.
At the time, Chang said he saw golden opportunities and serious challenges for TSMC as the global economy was trying to recover from the financial meltdown triggered by the collapse of Lehman Brothers Holdings.
Tsai now heads TSMC Solar Ltd (台積太陽能) and TSMC Solid State Lighting Ltd (台積固態照明).
In yesterday's statement, TSMC said that Liu and Wei would report to and perform such duties as designated by the chairman of the board, while the finance and legal departments of the corporation would continue to report to the chairman.
In other developments, the company said Woo Been-jon (金平中) was being promoted to vice president of the New Business Development Organization from her current post of director of the department.
It said the board had also approved a revision to TSMC's "retirement procedure" by setting the mandatory retirement age at 67.
In addition, the board gave the go-ahead for a capital appropriation of US$829.2 million to install, expand and upgrade advanced technology capacity and approved US$178.4 million in research and development capital appropriations and sustaining capital appropriations.
TSMC's capital spending will hit a record high of US$9.7 billion this year and it is expected to spend about US$10 billion next year.
Comments will be moderated. Keep comments relevant to the article. Remarks containing abusive and obscene language, personal attacks of any kind or promotion will be removed and the user banned. Final decision will be at the discretion of the Taipei Times.