Lien defends daughter's investment
SUPPLEMENTAL QUESTIO: Lien Chan said he did not want any 'improper influence' in the probe of Geneherbs' diet pills and that he had full confidence in his daughter
Former vice president Lien Chan (連戰) yesterday defended his daughter Lien Hui-hsin's (連惠心) investment in a nutrition supplement company whose weight-loss pills were found to contain unauthorized drugs, and said there may be political influence behind the investigation into the company.
Lien Hui-hsin on Sunday admitted she had invested in Geneherbs Biotechnology Co (菁茵荋生物科技). She had previously denied any involvement in the management of the firm.
Controversies over her promotion of the company's products arose after Taipei City's Department of Health confirmed that the firm's weight-loss product — Wellslim Plus+ — contained cetilistat, a lipase inhibitor designed to treat obesity.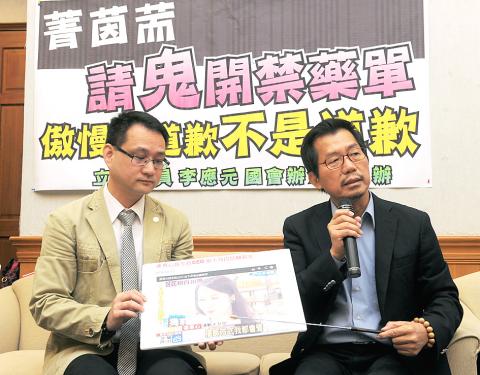 Democratic Progressive Party (DPP) Taipei City Councilor Juan Chao-hsiung, left, and DPP Legislator Lee Ying-yuan call for a stringent investigation into supplements made by Geneherbs Biotechnology at a press conference in Taipei yesterday.
Photo: CNA
Lien Chan, a former Chinese Nationalist Party (KMT) chairman, said he has absolute confidence in his daughter and her handling of the situation, and said she will resolve the dispute with sincerity and well-thought consideration.
"As a citizen, I am against any food product or drug that damages public health. However, I also do not want to see any improper force influence the authorities' handling of the case," he said in response to reporters' questions.
He added that he did not exclude the possibility that the case was being politically manipulated, but he did not elaborate.
He said he took Wellslim Plus+ and was "still very healthy."
Democratic Progressive Party (DPP) Taipei City Councilor Juan Chao-hsiung (阮昭雄) first raised questions about the pills, and the city's health department later reported the company to prosecutors after confirming that the pills contained unauthorized drugs.
Taipei Mayor Hau Lung-bin (郝龍斌) yesterday said public figures or celebrities should be more cautious about advertising products. He also said the city government would help consumers who had purchased the pills seek compensation from the company.
Hau said his close friendship with Lien Chan and his family would not impact the city's handling of the matter.
Meanwhile, Premier Jiang Yi-huah (江宜樺) denied that political influence had been a factor in the investigation into the content of Wellslim Plus+.
"At least I was not involved in the controversy... And I believe that the local prosecutors' office will investigate the case fairly," Jiang said in response to a question from DPP Legislator Chen Chi-mai (陳其邁) during a question-and-answer session at the legislature.
While saying she was a shareholder in the company, Lien Hui-hsin on Sunday questioned the timing of the probe as well as the extensive media coverage, saying that political influence could be a factor.
There have been rumors that relationship between the Lien family and President Ma Ying-jeou (馬英九) has soured because of Ma's perceived passiveness toward further investigations into the shooting of former Taipei EasyCard Corp chairman Sean Lien (連勝文) during a campaign rally in November 2010 as well as the election-eve shooting of then-president Chen Shui-bian (陳水扁) and then-vice president Annette Lu (呂秀蓮) on March 19 2004, who were running against Lien Chan and People First Party Chairman James Soong (宋楚瑜).
Sean Lien is regarded as a popular candidate for next year's Taipei mayoral election, although he has not said whether he is interested in running.
Additional reporting by staff writer
Comments will be moderated. Keep comments relevant to the article. Remarks containing abusive and obscene language, personal attacks of any kind or promotion will be removed and the user banned. Final decision will be at the discretion of the Taipei Times.