Lin's Rockets beat Indiana Pacers at Taipei Arena
The National Basketball League (NBA) showed off its immense glamor in its second-ever visit to Taiwan with the Jeremy Lin-led (林書豪) Houston Rockets downing the Indiana Pacers 107-98 at the Taipei Arena yesterday afternoon.
The highly anticipated showdown that featured the subject of the term "Linsanity"—US-born Taiwanese Lin — saw a sellout crowd of nearly 14,000 cheer on the crowd-favorite from the get go all the way to his exit midway through the fourth quarter that warranted a standing ovation.
Very fittingly, the Rockets delivered the win that sent everyone home happy and satisfied with Lin netting 17 points, four behind James Harden's game-high 21.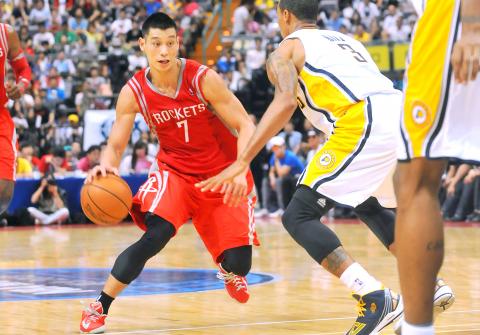 Houston Rockets' Jeremy Lin, center, attacks against the Indiana Pacers in the NBA Global Games in Taipei yesterday.
Photo: AFP
"We drew up the three-pointer for [Lin] to help get the crowd into the game," Rockets coach Kevin McHale said at the post-game press conference.
His troops took a 29-21 lead after one quarter of play thanks to a 10-point effort by Lin.
The Rockets would add to their advantage by seven with a solid second quarter that included a fastbreak-finishing slam dunk and a blocked shot by Lin that brought the crowd to its feet.
Even though the Pacers managed to cut the deficit by half in an outstanding third quarter with Paul George and Roy Hibbert leading the way, and got as close as two points of the Rockets midway through the fourth, the Rockets were able to knock down the clutch shots on several occasions to protect and add to the lead en route to a relatively easy victory.
"It's hard to say if we would win as easily because [the Pacers] played their reserves for most of the fourth quarter," Lin said after the game when he was asked about how well the Pacers had played.
He definitely made a strong case for himself to be the Rockets' regular starter with his outstanding performance, despite McHale's insistence on alternating him and fellow point guard Patrick Beverley in the pre-season to give both players a fair chance to earn the starting role on the team.
Regardless of which player ultimately ends up winning the starting job for the Rockets, they are sure to be a formidable force in the Western Conference with the addition of Dwight Howard to a lineup that made it to the post-season last year.
Comments will be moderated. Keep comments relevant to the article. Remarks containing abusive and obscene language, personal attacks of any kind or promotion will be removed and the user banned. Final decision will be at the discretion of the Taipei Times.