Typhoon Fitow cancels flights, closes highways
FEELING FITOW: Heavy rainfall battered the nation yesterday as the typhoon brushed past, causing some power outages and people to be evacuated in Hsinchu
More than 200 international and domestic flights were canceled or delayed yesterday as Typhoon Fitow moved near the nation's northern coast, the Civil Aeronautics Administration said yesterday.
By 5:30pm yesterday, statistics from the Central Weather Bureau (CWB) showed the center of typhoon was located 190km northeast of Taipei. It was moving northwest at 15kph, with the maximum wind speed measured near the center topping 137kph. The radius of the storm reached 250km.
The bureau said the land alert for the typhoon would be lifted before 8am today as the typhoon is expected to move toward China, adding that the typhoon's power would gradually weaken.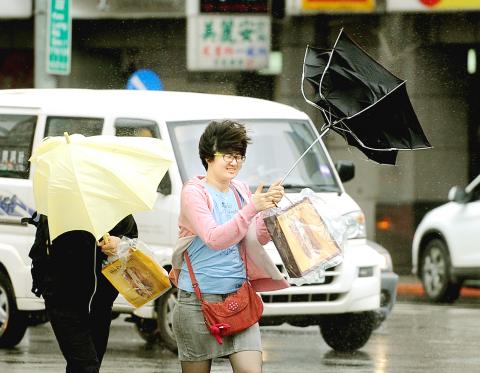 A gust of wind turns a woman's umbrella inside out in Taipei yesterday as Typhoon Fitow passed across the sea north of Taiwan. The eye of the storm was forecast to hit the coast of China this morning.
Photo: Fang Pin-chao, Taipei Times
Except for Lienchiang County, which had announced last night that both classes and work will be canceled this morning, all other areas in Taiwan, including the outlying Penghu and Kinmen counties, have announced work and school will proceed as normal today.
The Central Emergency Operation Center reported that 224 residents in Hsinchu County's Jianshi (尖石) and Wufong (五峰) townships were forced to evacuate due to heavy rainfall brought by Fitow.
The Directorate General of Highways (DGH) closed parts of Provincial Highway No. 7 because mudflows had disrupted the traffic.
It also closed two other sections of the highway and Yilan County Highway No. 51 because they posed a threat to motorists. Heavy rainfall meant red alerts for mudflows were placed on 38 rivers around the country, most of which were in Hsinchu County.
The typhoon had at one point caused power outages affecting approximately 6,900 households nationwide, mostly in Yilan County, New Taipei City and Greater Taichung.
According to the CWB , Niaozuishan (鳥嘴山) in Hsinchu County had the highest accumulated rainfall, 536mm, by 7pm yesterday. It was followed by Fushan (福山) in New Taipei City and Kaoyi (高義) in Taoyun County, with their accumulated rainfall topping 402mm and 377mm respectively.
The wind in Pengjia Islet (彭佳嶼) was found to have reached Level 14 on the Beaufort scale. The wind in Lanyu (蘭嶼) in Taitung County and Wuchi (梧棲) in Greater Taichung reached Level 11 and Level 10, respectively.
Aside from Fitow, tropical storm Danas turned into a typhoon at 8am yesterday. Yesterday evening, the center of Danas was located 1,460km east of Oluanpi (鵝鑾鼻). It was moving northwest at 31kph.
Bureau forecaster Hsieh Ming-chang (謝明昌) said the two typhoons would be about 1,000km apart today because Danas was moving twice as fast as Fitow.
The two are unlikely to produce the Fujiwhara effect, which would cause the typhoon to slow down because of its interaction with another nearby storm.
"Fitow is forecast to make landfall in China early [today], which would reduce its power and cause rainfall in Taiwan to ease," Hsieh said.
"Danas, on the other hand, will accelerate and move northward and should not affect the weather in Taiwan," he added.
Comments will be moderated. Keep comments relevant to the article. Remarks containing abusive and obscene language, personal attacks of any kind or promotion will be removed and the user banned. Final decision will be at the discretion of the Taipei Times.