Ex-deputy justice minister says Ma crossed 'red line'
Former deputy minister of justice Lee Chin-yung (李進勇) yesterday accused President Ma Ying-jeou (馬英九) of crossing a red line by interfering with the judicial system by using Cabinet members to pursue a personal vendetta against prosecutor Hou Kuan-jen (侯寬仁), who indicted Ma on corruption charges in 2007.
Accompanied by Democratic Progressive Party legislators Gao Jyh-peng (高志鵬) and Tsai Huang-liang (蔡煌瑯), Lee told a press conference in Taipei that Ma had held a grudge against Hou for indicting him on charges of misappropriating NT$11 million (US$333,000 at current exchange rates) from his special mayoral allowance during his eight-year tenure as Taipei mayor.
"Although Ma cleared his name in 2008, he refused to let go of his resentment toward Hou and subsequently brought together a group of four people, including himself, his attorney C.V. Chen (陳長文), then-minister of justice Wang Ching-feng (王清峰) and then-deputy minister of justice Huang Shih-ming (黃世銘), to launch a witch hunt against Hou," Lee said.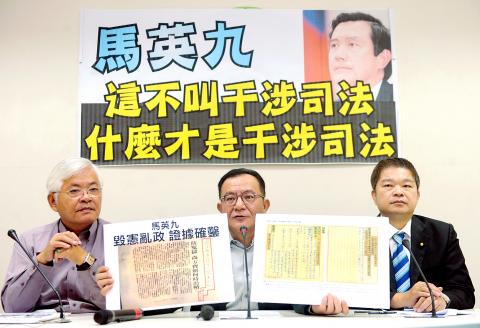 From left to right, former deputy minister of justice Lee Chin-yung and Democratic Progressive Party legislators Gao Jyh-peng and Tsai Huang-lang hold a press conference in Taipei yesterday, calling on President Ma Ying-jeou to resign over what they called his unconstitutional interference in judicial affairs.
Photo: Liao Chen-huei, Taipei Times
Chen sent a letter to the media on Jan. 25, 2010, calling on the Ministry of Justice to seek compensation from Hou for "malpractice" in filing fraud charges against Hong Shih-ho (洪石和), president of the qigong group Tai Ji Men (太極門), and several of his followers in 1997, Lee said.
The defendants were found not guilty 10 years and seven months after they were first indicted and detained.
Lee said Ma, who left on Jan. 25 for a six-day diplomatic mission to Honduras, the Dominican Republic and the US, clipped the letter out of a newspaper and made a note on it that read: "Minister Wang Ching-feng, please read [the letter] and clarify the matter."
Ma also appointed Huang as prosecutor-general that day, Lee said.
"Because Wang felt that seeking compensation from Hou was not enough, she decided to hold Hou administratively accountable for rewriting investigation reports in Ma's corruption case," Lee said.
The ministry referred the case to the Taiwan High Prosecutors' Office on Feb. 4, 2010, and Hou was later given a demerit at a personnel review committee meeting presided over by Huang in October 2010, Lee said.
Presidential Office spokesperson Lee Chia-fei (李佳霏) yesterday said that in the note Ma was merely asking Wang to take into account academics' professional opinions on the case.
Comments will be moderated. Keep comments relevant to the article. Remarks containing abusive and obscene language, personal attacks of any kind or promotion will be removed and the user banned. Final decision will be at the discretion of the Taipei Times.