Date for all-volunteer military delayed
STINGING REBUKE: DPP Legislator Wu Ping-jui said the president was responsible for low morale in the armed forces, which has contributed to recruitment problems
The implementation date for an all-volunteer military has been pushed back two years from 2015 to 2017 because of recruitment difficulties, the Ministry of National Defense announced yesterday at a press conference.
The military was scheduled to shift to an all-volunteer force by the end of next year. However, the ministry has experienced difficulties recruiting sufficient volunteers in the past 20 months since the Executive Yuan approved the plan last year and has been forced to defer implementation.
The Executive Yuan has approved the ministry's revised plan, which would men born before Dec. 31, 1993, to serve a one-year mandatory military service, with those born after Jan. 1, 1994 receiving a four-month basic military training, Ministry of National Defense spokesman Major-General David Lo (羅紹和) said.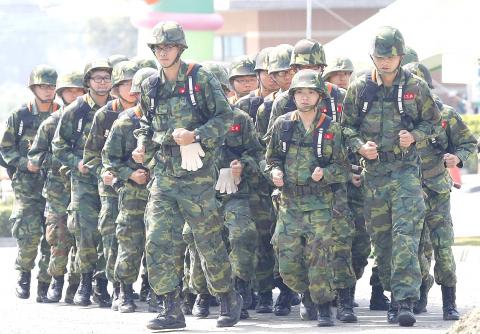 Army conscripts march in this undated photograph. The Ministry of National Defense announced yesterday that the changeover from a compulsory military service to an all-volunteer military has been pushed back to 2017.
Photo: CNA
Those who were born before Dec. 31, 1993, had only been required for substitute services, but now are needed to fill the personnel shortage.
An all-volunteer military has been one of President Ma Ying-jeou's (馬英九) most important campaign pledges.
The ministry had planned to cut the size of the military from 235,000 to 215,000, of which 176,000 would be volunteers, by 2015.
The ministry was concerned that the nation's armed forces would not be sufficiently strong to carry out their duties of safeguarding the nation and disaster relief if volunteer recruitment continued to fall short of the original goal.
Its recruitment has been further hampered by the case of army corporal Hung Chung-chiu (洪仲丘), who died following alleged abuse at a military detention facility in July, triggering a protest by about 250,000 people last month demanding reform of the military.
Wang Tien-de (王天德), director of the ministry's Department of Resources Planning, estimated that 60,000 draftees would be affected.
Wang denied that plans to create an all-volunteer military had failed, reiterating that the ministry is still working toward reaching that goal.
Draftees born before Dec. 31, 1993, could still apply for alternative non-military community service, but they could have to go through a draw, said Tsai Ching-chih (蔡清治), director of Draft Division of the National Conscription Agency.
The ministry said it believed benefits and welfare for military personnel would have to be increased to provide extra incentive for those who are interested in a military career.
Democratic Progressive Party lawmakers have criticized Ma for violating his campaign pledge, with Legislator Wu Ping-jui (吳秉叡) saying that Ma's poor leadership as commander-in-chief was why the military had become notorious for its low morale and mismanagement, which had subsequently resulted in recruitment problems.
Chinese Nationalist Party (KMT) Legislator Lin Yu-fang (林郁方) said that deferring the implementation date for an all-volunteer military would only be a temporary remedy to address personnel shortages.
"In the long run the ministry will still have to find a solution [to the lack of recruits], otherwise the problem will resurface in two years' time," Lin said.
Comments will be moderated. Keep comments relevant to the article. Remarks containing abusive and obscene language, personal attacks of any kind or promotion will be removed and the user banned. Final decision will be at the discretion of the Taipei Times.