DPP calls for prosecutor-general suspension, probe
PROBING THE PROBER: Civic groups and a former minister filed suits against Prosecutor-General Huang Shih-ming for violating the law on information privacy
Prosecutor-General Huang Shih-ming (黃世銘) should be immediately suspended and placed under investigation while the Taipei Prosecutors' Office processes accusations that Huang was party to illegal practices in the influence-peddling case involving several government officials, the Democratic Progressive Party (DPP) caucus said yesterday.
Civic groups and former deputy minister of justice Lee Chin-yung (李進勇) on Monday filed lawsuits against Huang and the Special Investigation Division (SID), accusing him of violating the Communication Security and Surveillance Act (通訊保障及監察法), the Personal Information Protection Act (個人資料保護法) and the Civil Servant Service Act (公務人員服務法) and leaking information, DPP Legislator Gao Jyh-peng (高志鵬) told a news conference.
"If Huang, the head of the prosecutorial system, is not suspended immediately pending further investigation, it will be difficult for prosecutors to probe the allegations against him," Gao said.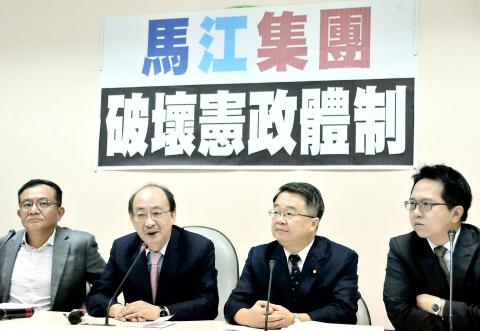 Democratic Progressive Party Legislator Ker Chien-ming, second left, speaks during a press conference in Taipei yesterday.
Photo: Mandy Cheng, AFP
The division on Friday accused Legislative Speaker Wang Jin-pyng (王金平), former minister of justice Tseng Yung-fu (曾勇夫) and High Prosecutors' Office Head Prosecutor Chen Shou-huang (陳守煌) of influence peddling on behalf of DPP Legislator Ker Chien-ming (柯建銘) in a breach of trust case against Ker.
The probe has sparked widespread public debate about politicians' lobbying activities and condemnation from many who say amounted to a political persecution against Wang.
Tseng subsequently announced his resignation, but maintained that he is innocent.
Wiretapping Ker's mobile phone — which is how the SID reportedly discovered the officials' alleged misconduct — and the decision to announce the case while Wang was out of the country showed that the investigation is a politically motivated affair in which Huang is playing the role of a thug hired by politicians, DPP Legislator Wu Ping-jui (吳秉叡) said.
Ker again extended his apologies to Wang, a close friend of his, for "dragging him into the political storm."
He declined to comment on media reports about Deputy Legislative Speaker Hung Hsiu-chu's (洪秀柱) possible nomination as Wang's replacement.
Separately, DPP lawmaker Cheng Li-chiun (鄭麗君) called on President Ma Ying-jeou (馬英九) to resign as KMT chairman because he had interfered with congressional affairs in his capacity as party leader.
"Not only did Ma launch a political vendetta against Wang, the president also hinted at possible candidates for a new legislative speaker. These actions violate the principle of separation of powers," Cheng said.
Premier Jiang Yi-huah (江宜樺) has also made comments that were unconstitutional, DPP Legislator Chen Ming-wen (陳明文) said in a press release.
Jiang was quoted by media as saying that it would be "inappropriate" for Wang to retain his post as legislative speaker amid the scandal.
The premier's comment infringed on the legislature's autonomy and violated the separation of powers, Chen Shou-huang said, adding that Jiang should apologize for his remarks.
Comments will be moderated. Keep comments relevant to the article. Remarks containing abusive and obscene language, personal attacks of any kind or promotion will be removed and the user banned. Final decision will be at the discretion of the Taipei Times.