Damascus accepts weapons proposal
Syria has accepted a proposal to place its chemical weapons under international control for dismantling, Syrian Minister of Foreign Affairs Walid al-Moallem said yesterday, as France proposed a UN resolution that would enforce the plan militarily if Damascus failed to follow through.
The moves are part of flurry of diplomatic activity aimed at averting Western military action. Speaking in Moscow, al-Moallem said his government quickly agreed to the plan to "thwart US aggression," referring to possible US-led strikes in retaliation for a deadly Aug. 21 chemical weapons attack near Damascus that Western powers blame on the Syrian regime.
Syrian President Bashar al-Assad has denied the claim.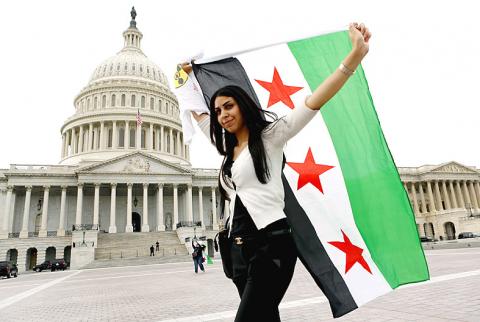 An anti-Syrian regime protester carries the Syrian freedom flag in front of the US Capitol in Washington on Monday.
Photo: Reutes
Russia, Syria's most powerful ally, is now working with Damascus to prepare a detailed plan of action that will be presented soon, Russian Minister of Foreign Affairs Sergey Lavrov said. Moscow will then be ready to finalize the plan with UN Secretary-General Ban Ki-moon and the Organization for the Prohibition of Chemical Weapons.
Al-Moallem's statement sounded more definitive than his remarks a day earlier, when he said Damascus welcomed Russia's initiative.
Western officials have expressed caution about possible stalling tactics or efforts to wriggle out of international pressure by al-Assad's regime in Syria.
Al-Moallem's response came after France said it would put forward the resolution in the UN Security Council aimed at forcing Syria to ultimately dismantle its chemical weapons program.
France was to start the resolution process yesterday under a part of the UN charter that is militarily enforceable, French Minister of Foreign Affairs Laurent Fabius said at a press conference in Paris.
Comments will be moderated. Keep comments relevant to the article. Remarks containing abusive and obscene language, personal attacks of any kind or promotion will be removed and the user banned. Final decision will be at the discretion of the Taipei Times.