Deadly typhoon hits Philippines
The strongest typhoon to hit the Philippines this year flattened houses, caused flash floods and triggered landslides in remote towns yesterday, killing at least two people and leaving 44 missing.
With gusts of 200kph, authorities said they feared many more people may have died as Typhoon Utor swept across coastal and mountainous regions of the northern Philippines.
"It looks like the death and damage toll is going to go up ... with wind like this, you can expect a lot of damage," said Francis Rodriguez, a senior officer with the Philippine National Disaster Risk Reduction and Management Council.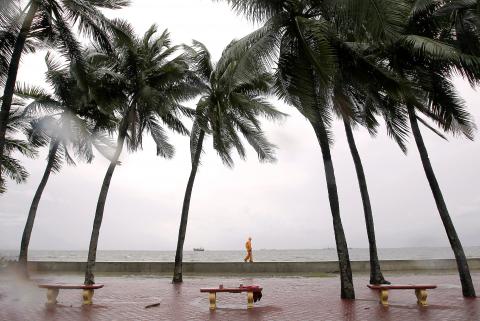 A person yesterday walks along Manila's breakwater area as winds bend coconut palm trees in the Philippine capital.
Photo: EPA
Rodriguez said authorities would likely not receive reports from isolated villages that were in Utor's direct path until today.
Hundreds of people die each year in the Philippines from the approximately 20 typhoons that strike the country.
The wind from Utor, which made landfall before dawn yesterday, was the strongest recorded in the Philippines this year, while the typhoon also brought intense rain.
Rodriguez said the first confirmed fatality was a man crushed by a landslide while trying to clear a mountain road in northern Benguet province.
Norma Talosig, a regional civil defense director, said that in northern Nueva Vizcaya province, a 53-year-old farmer drowned while trying to rescue his water buffalo from a swift-moving flood. The animal survived.
A TV cameraman in another northern province also filmed the horrifying ordeal of a woman who was swept down a swollen river on the thatched roof of her house.
The woman stood on the roof as if it was a surfboard, as people screamed out in alarm from higher ground. She quickly disappeared amid the fast-moving water and it was unclear if she survived.
Rodriquez said 13 fishermen were also still missing after they went out to sea as the storm approached.
Authorities said large areas of the coastal province of Aurora, where the storm made landfall, suffered heavy damage.
"Infrastructure, farms, homes were destroyed. Trees were knocked down," Elson Egargue, Aurora's disaster management officer, told reporters.
He said the coastal town of Casiguran, home to about 20,000 people, was believed to have been hit particularly hard, although officials had yet to make contact with residents or authorities there.
"The roads in these areas are blocked because of landslides and overflowing creeks," he said, adding that mobile phone networks were also down.
He said there was also extensive damage to two other nearby towns, where about 25,000 people live.
In Manila, the capital, roughly 200km to the south of the storm's path, there was heavy rain overnight and throughout yesterday, but no major flooding.
Schools across the capital were closed in an automatic response to a government storm alert.
Such measures have become standard after the death tolls of storms in recent years were exacerbated by poor preparations.
More than 1,000 thousand people were killed when Typhoon Bopha hit the Philippines in December last year, making it the deadliest storm in the world that year
The Philippine Weather Bureau said the eye of Utor had traveled west out of the Philippine and into the South China Sea yesterday afternoon, heading toward southern China.
However, it said Utor was expected to continue bringing heavy rains to Luzon overnight and today.
Comments will be moderated. Keep comments relevant to the article. Remarks containing abusive and obscene language, personal attacks of any kind or promotion will be removed and the user banned. Final decision will be at the discretion of the Taipei Times.