President happy to meet with Tsai
President Ma Ying-jeou (馬英九) is willing to meet with former Democratic Progressive Party (DPP) chairperson Tsai Ing-wen (蔡英文) and discuss major issues without preconditions, the Presidential Office said yesterday.
Presidential Office spokesperson Lee Chia-fei (李佳霏) said Ma would exchange ideas with Tsai on any issue, including whether a national affairs conference should be held.
"President Ma has always proposed dialogue between the government and the opposition parties. He would also welcome DPP Chairman Su Tseng-chang (蘇貞昌) and former DPP chairman Frank Hsieh (謝長廷) to discuss national issues with him if they want," Lee said.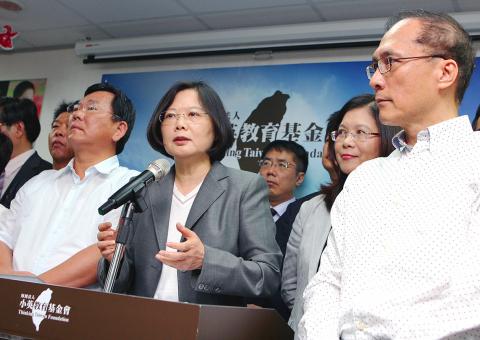 Former Democratic Progressive Party (DPP) chairperson Tsai Ing-wen, front center, is joined by DPP and Taiwan Solidarity Union legislators at a press conference in Taipei yesterday.
Photo: CNA
At a press conference earlier yesterday, Tsai urged Ma to hold a national affairs conference to discuss several political issues that she considers of major importance to the nation.
They include reforming the military following the death of army corporal Hung Chung-chiu (洪仲丘), determining the fate of the nearly completed Fourth Nuclear Power Plant in Gongliao District (貢寮), New Taipei City (新北市), and establishing a monitoring and supervisory mechanism for negotiations between Taipei and Beijing.
The conference should also cover pension reform, the Referendum Act (公民投票法), the nation's economic development model and the new 12-year education program, Tsai said.
In an interview with Internet news channel UDN TV, Tsai reiterated that the direction the nation takes should be agreed upon by the public, adding that Ma was making decisions unilaterally and according to his own personal political agenda.
She also advised Ma to cancel a planned trip to the Caribbean and Latin America, as domestic political and social instability is the primary concern at this time.
Ma is embarking on a visit to the nation's diplomatic allies in South America and the Caribbean tomorrow. While he is away on his 11-day trip, Presidential Office Secretary-General Timothy Yang (楊進添) would discuss the details of such a meeting with the executive director of Tsai's Thinking Taiwan Foundation, Lin Chuan (林全), Lee said, adding that Ma would also ask Vice President Wu Den-yih (吳敦義) to discuss the matter with Premier Jiang Yi-huah (江宜樺) and Legislative Speaker Wang Jin-pyng (王金平).
Ma is to attend the inauguration of Paraguayan president-elect Horacio Cartes on Thursday and he also plans to visit Saint Lucia, Saint Vincent and the Grenadines, and Saint Kitts and Nevis.
Ma plans to make a brief stop in New York and meet with New York Mayor Michael Bloomberg. He plans to return to Taiwan on Aug. 21.
Additional reporting by CNA
Comments will be moderated. Keep comments relevant to the article. Remarks containing abusive and obscene language, personal attacks of any kind or promotion will be removed and the user banned. Final decision will be at the discretion of the Taipei Times.