Hsieh Su-wei claims historic victory
DYNAMIC DUO: Taiwan's No. 1 female tennis player and Chinese doubles partner Peng Shuai have been friends for years and shared everything as teenagers
Having first played together as teenagers, Taiwan's Hsieh Su-wei (謝淑薇) and China's Peng Shuai (彭帥) won their maiden Grand Slam title with a 7-6 (7/1), 6-1 victory on Saturday over Australian duo Ashleigh Barty and Casey Dellacqua in the women's doubles final at Wimbledon.
Hsieh became the first Taiwanese tennis player to claim a Grand Slam title, while Peng gave China its first doubles success in seven years at one of the sport's four biggest tournaments.
"It's very special because I don't think tennis is popular in Taiwan," Hsieh said. "We didn't see many media during this tournament. We're very proud we can win this tournament together with my good friend. It's our first title, for Taiwan, so I think it's big thing in Taiwan."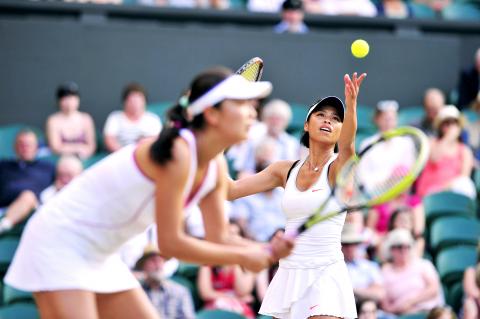 China's Peng Shuai, left, stands ready as Taiwan's Hsieh Su-wei serves to Australia's Ashleigh Barty during the Wimbledon women's doubles final on Saturday at the All England Club in Wimbledon, London.
Photo: AFP
The eighth-seeded pair withstood a tight first set and fought their way back to force a tie-break after the Australian duo broke for 3-1. Hsieh and Peng dominated the tie-break, taking it 7-1. From there the pair took control, capitalizing on the Australians' errors, and cruised to victory.
The 12th-seeded Dellacqua and Barty were bidding to become the first all-Australian team to win the women's title at the All England Club since 1978.
Hsieh and Peng, who are both 27, played a few tournaments together as juniors, but ended their partnership after turning pro.
As teenagers they had shared everything, including clothes and money, Hsieh recalled.
They were nicknamed the "Crab Duo" because their surnames combine to sound like the Mandarin pronunciation of "crab." However, they have recently become known as the "Cross-Strait Duo."
After a seven-year hiatus, Hsieh's father, Hsieh Tzu-lung (謝子龍), suggested that the pair join forces again in 2008.
The friends resumed their partnership by the end of the year and won their first 11 matches, claiming titles in Bali and Sydney.
They lost to Serena and Venus Williams in the 2009 Australian Open quarter-finals, but advanced to the semi-finals of the French Open in the same year.
Their longtime friendship is now embellished with a Grand Slam title, which Hsieh's father had predicted since the pair's early success together.
"Your dad's dream has come true," Peng told Hsieh after the match.
"I'll leave my best moment here. I can retire," Hsieh joked at the press conference after the final.
Both Peng and Hsieh play double-handed on both sides, like Frenchwoman Marion Bartoli, who won the Wimbledon women's singles title on Saturday.
"It's probably the first time [double-handed players] win the singles and the doubles," Peng said.
Peng and Hsieh said they opted for this unorthodox style of play because they were too small to hold their rackets with one hand when they were kids.
The triumphant duo plan to compete at the US Open and the WTA Tour Championships held at the end of the season by the Women's Tennis Association (WTA), the Taiwanese No. 1 said.
The annual tour championships feature the season's top eight singles players and top four doubles teams, and Hsieh and Peng were ranked seventh as of June 24.
Meanwhile, Liao Yu-hui (廖裕輝), chairman of the Chinese Taipei Tennis Association, announced in Taipei yesterday that he will donate NT$1 million (US$33,100) to set up a fund in Hsieh's name to cultivate local talent.
The fund will be used mainly to support young Taiwanese players taking part in overseas competitions, the association said.
Comments will be moderated. Keep comments relevant to the article. Remarks containing abusive and obscene language, personal attacks of any kind or promotion will be removed and the user banned. Final decision will be at the discretion of the Taipei Times.