HK marks Tiananmen as China blocks remembrance
Tens of thousands of Hong Kongers braved thunder and a torrential downpour to attend a candlelight vigil yesterday marking the 24th anniversary of China's bloody Tiananmen crackdown, as Beijing blocked commemoration attempts.
A massive turnout filled the former British colony's Victoria Park in an annual act of remembrance for the hundreds, perhaps thousands, of people killed in the June 4 and 5 onslaught in Beijing in 1989.
In Beijing, police blocked the gate of a cemetery housing victims of the crackdown on pro-democracy demonstrators as part of a sweeping annual effort to bar commemorations.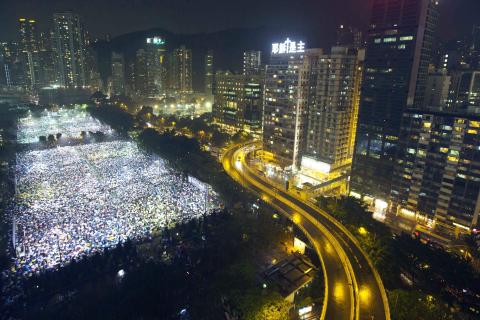 Tens of thousands of people participate in a candlelight vigil at Hong Kong's Victoria Park yesterday to mark the 24th anniversary of the June 4, 1989, Chinese military crackdown on the pro-democracy movement in Beijing.
Photo: Reuters
In a narrow street near Beijing's Forbidden City, security personnel patrolled outside the former house of Zhao Ziyang (趙紫陽), the former Chinese Communist Party secretary who was purged and held under house arrest for perceived sympathy with the protesters.
Chinese authorities also blocked online searches for a wide range of keywords ranging from "Tiananmen" to "candle" on Sina Weibo (新浪微博), China's version of Twitter.
Hong Kong and Macau, which reverted to Beijing's rule in the late 1990s but have semi-autonomous status, are the only places in China where the brutal military intervention is openly marked.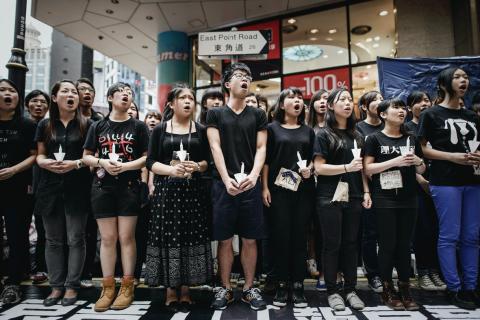 Students sing in Hong Kong yesterday in a street leading to a candlelight vigil held to mark the 24th anniversary of the 1989 crackdown at Tiananmen Square.
Photo: AFP
The event has largely been expunged from official Chinese history, but Victoria Park was transformed yesterday into a sea of demonstrators holding candles.
"Vindicate June Fourth," protesters shouted. "We will never forget."
"The candlelight vigil tonight has an additional meaning of not just condemning the massacre 24 years ago, but also condemning the suppression today [in China]," said Lee Cheuk-yan (李卓人), chairman of protest organizers the Hong Kong Alliance in Support of Patriotic Democratic Movements of China.
Billy Li, a 28-year-old recent university graduate, said he was attending because the Tiananmen crackdown "has not been vindicated, because the truth has not been told."
Organizers had said they expect 150,000 people to attend the event, including an increasing number of mainland Chinese. No estimate of the crowd size was immediately available.
"I hope the next generation will not have to suffer the red terror," 42-year-old Pan Xidian from the Chinese city of Xiamen said.
"We have not given up," the construction worker said, adding that it he was very thankful for Hong Kongers' support.
Pan had traveled to Hong Kong for the first time to commemorate the crackdown that ended weeks of nationwide democracy protests.
Beijing has never provided an official final toll for the military repression, which was condemned worldwide. Independent observers tallied more than 1,000 dead in Beijing, without including victims elsewhere.
"I think all of us, even the new generation in Hong Kong, would have the same feeling that it is a tragedy and also an offense by the government to shoot people like that," said Richard Choi, vice chairman of the organizing group.
"The problem is still not resolved, that's why Hong Kong people have the same feelings and the same demands as they did 24 years ago," he said.
The Chinese Communist Party branded the Tiananmen protests a "counterrevolutionary rebellion," and each year Beijing pushes to prevent commemorations.
However, pro-democracy advocates in Hong Kong have marked the event every year. Organizers said 180,000 people took part last year, while police put the figure at 85,000.
Comments will be moderated. Keep comments relevant to the article. Remarks containing abusive and obscene language, personal attacks of any kind or promotion will be removed and the user banned. Final decision will be at the discretion of the Taipei Times.