Fears of foreign-fed arms race in Syria increasing
EU AND RUSSIA: Kremlin officials criticized the EU decision to allow its arms embargo against Damascus to expire, but disclosed their own deal with Syria
Fears grew yesterday of a foreign-fed arms race in Syria as EU countries decided they could provide weapons to the rebels and Russia disclosed that it has signed a contract to provide Syria with sophisticated anti-aircraft missiles.
Either development would significantly raise the firepower in the two-year civil war, which has already killed more than 70,000 people and sent hundreds of thousands fleeing the country, just as the key countries prepare for a major peace conference in Geneva that had been described as the best chance yet to end the bloodshed.
Russian officials criticized the EU decision on Monday night to allow their arms embargo against Syria to expire, freeing its member countries to provide weapons for the outgunned rebels. Russia, which has been a strong supporter of the Syrian government, said the British and French-driven decision undermined peace efforts.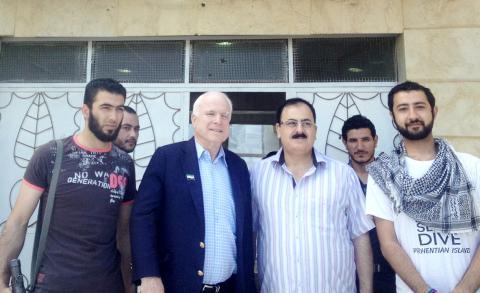 A photograph released by the Syrian Emergency Task Force shows US Senator John McCain, center left, posing with Syrian rebel leader General Salim Idris, center right, and other members of the Syrian opposition in Bab al-Salam, Syria, on Monday.
Photo: AFP
Russian Deputy Foreign Minister Sergei Ryabkov yesterday said that Moscow has signed a contract with the government of Syrian President Bashar al-Assad to provide it with state-of-the-art S-300 air defense missiles, which he said were important to prevent foreign intervention in the country.
Ryabkov would not say whether Russia has shipped any of the missiles to Syria yet.
He said Russia understands the concerns about providing such weapons to Syria, but believes that may "help restrain some hot-heads considering a scenario to give an international dimension to this conflict."
EU diplomats have said Britain and France are considering providing equipment to the rebels, and Syrian neighbors Turkey and Lebanon risk being drawn into the conflict.
Britain yesterday said it did not have to wait until an Aug. 1 meeting of EU foreign ministers before taking a decision to arm Syria's rebels, but stressed it had not yet taken any decision.
"I must correct one thing of concern. I know there has been some discussion of some sort of August deadline. That is not the case," British Foreign Secretary William Hague told BBC radio, adding that Britain was "not excluded" from arming the rebels before August, and that it would not act alone if it chose to do so.
Ryabkov called the EU move to end its arms embargo "a manifestation of double standards" that will hurt the prospects for the Geneva talks, which are expected to happen next month.
In Damascus, a Syrian lawmaker yesterday criticized the EU decision, saying that efforts to arm the rebels will discourage the opposition from seeking a peaceful solution to the conflict. The comments by Essam Khalil, a member of the parliament for the ruling Baath Party, were the first by a Syrian official.
Meanwhile, US Senator John McCain made an unannounced visit to rebel forces in Syria on Monday, putting more pressure on al-Assad to seek a negotiated settlement.
A US Department of State official said the department was aware of McCain crossing into Syrian territory, but referred further questions to McCain's office. McCain spokeswoman Rachel Dean confirmed the Monday trip, but declined further comment.
He met with leaders of the Free Syrian Army from across the country, who asked him for increased US support, including supplying the rebels with heavy weapons, enforcing a no-fly zone, and conducting airstrikes on Syrian government and Hezbollah forces, according to The Daily Beast, which first reported the senator's visit.
Additional reporting by Reuters
Comments will be moderated. Keep comments relevant to the article. Remarks containing abusive and obscene language, personal attacks of any kind or promotion will be removed and the user banned. Final decision will be at the discretion of the Taipei Times.