Japan commemorates recovery of sovereignty
SEEKING GLORY: On the 61st anniversary of the day Japan regained its sovereignty, the Japanese prime minister said he sought to make the nation better and 'more beautiful'
Japan for the first time yesterday officially marked the 61st anniversary of the day it regained sovereignty following its World War II defeat, as Japanese Prime Minister Shinzo Abe steps up his nationalist campaign.
After taking over as prime minister in December last year, Abe focused mainly on improving Japan's slumping economy.
However, he recently has shifted his focus to pursuing his political agenda, and the marking of the anniversary is seen as a step to drum up support for revising Japan's US-inspired pacifist constitution. Abe's Liberal Democratic Party has for years denounced the current constitution as one imposed by the US, which occupied Japan from the end of World War II until 1952.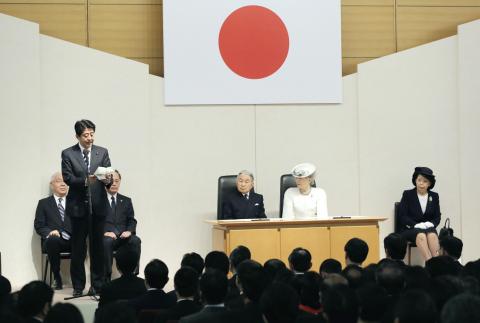 Japan's Prime Minister Shinzo Abe (front L) delivers a speech as Emperor Akihito (3rd R) and Empress Michiko (2nd R) listen during a ceremony to commemorate the anniversary of Japan's restoration of sovereignty and return into the international community in Tokyo yesterday.
Photo: Reuters
Last month, the Cabinet approved a plan by the ruling party to designate April 28 as Japan's "sovereignty recovery" day, and yesterday's ceremony was the first government-sponsored event to mark the day.
Yesterday's proceedings were filled with nationalistic rituals considered symbols of the imperial worship that drove Japan to its 20th century aggression in Asia.
The ceremony started with the singing of the controversial national anthem Kimigayo ("His Majesty's Reign") and ended with cheers for Japanese Emperor Akihito.
There also was a huge rising sun decoration on the center stage.
Abe urged Japanese to mark the day in their hearts, pledging to make Japan a stronger country with national pride.
He said that 61 years ago, Japanese had high hopes and commitment to make a better Japan, adding that people today must live up to the expectations.
"We are obliged to make Japan strong and tough so our country becomes one that the rest of the world can count on," Abe said.
He said he was seeking to make Japan a better and more "beautiful nation," a phrase critics say has a nationalistic undertone.
The ceremony was the latest in a series of events and remarks that have invited harsh reactions from neighboring countries that suffered from Japan's wartime aggression.
Visits by several government ministers and nearly 170 lawmakers to Tokyo's Yasukuni Shrine this month enraged China and South Korea. Japanese political leaders' visits to the shrine — which memorializes 2.3 million war dead, including 14 wartime leaders convicted of war crimes — have been a point of contention with those countries.
Abe has also campaigned for recognizing Japan's Self-Defense Forces as a full-fledged national military, for revising Japan's past apologies for atrocities committed by its Imperial Army before and during World War II and for upgrading the emperor's status to head of state, as outlined in the Liberal Democratic Party platform.
Comments will be moderated. Keep comments relevant to the article. Remarks containing abusive and obscene language, personal attacks of any kind or promotion will be removed and the user banned. Final decision will be at the discretion of the Taipei Times.