China advocates 'positive' approach to political talks
'FIRST THE EASY': Most speakers at a cross-strait forum said Taiwan was not ready for political talks, but a former SEF chairman urged talks and opening to Chinese media
Both sides of the Taiwan Strait should create a "positive environment" for resolving political differences and adopt a "first the easy, then the difficult" approach to furthering bilateral ties, a visiting Chinese official told a forum in Taipei yesterday.
"Without proper management or being partially dealt with, the political differences [between the two sides] will hamper the development of cross-strait relations," said Sun Yafu (孫亞夫), deputy director of China's Taiwan Affairs Office (TAO).
The forum was organized by the Taipei Forum Foundation, a Taiwan-based think tank, to commemorate the 20th anniversary of a bilateral negotiation held in Singapore between April 27 and April 29, 1993 — the first official contact between the Republic of China and the People's Republic of China since the end of the Chinese Civil War in 1949.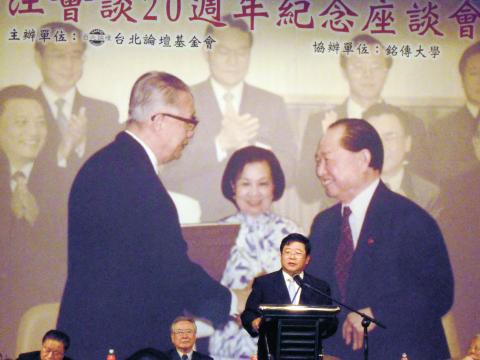 Sun Yafu, deputy director of China's Taiwan Affairs Office, speaks at a forum organized by the Taipei Forum Foundation yesterday to commemorate the 20th anniversary of a 1993 bilateral negotiation between Taiwan and China in Singapore.
Photo: CNA
The unprecedented negotiations, also known as the "Koo-Wang talks," saw then Straits Exchange Foundation (SEF) chairman Koo Chen-fu (辜振甫) and his Chinese counterpart, then Association of Relations Across the Taiwan Strait (ARATS) chairman Wang Daohan (汪道涵), sign four agreements.
Sun, who also serves as ARATS vice president, said that while Beijing has "confidence and patience" in the peaceful development of cross-strait engagement, it believes that such ties should make progress on every front, including the political one.
He said he supported a proposal to establish a cross-strait think tank or forum to discuss and contemplate "sensitive topics" that could not yet be negotiated by the Taiwanese and Chinese governments.
Sun praised the meeting as a "milestone," but it seemed that every speaker at the forum was aware that the next phase of bilateral engagement and China's intention to facilitate political talks with Taiwan would be the most important issues.
Former vice president Vincent Siew (蕭萬長), former Chinese Nationalist Party (KMT) chairman Wu Po-hsiung (吳伯雄) and former premier Liu Chao-shiuan (劉兆玄) said that the time was not ripe for the two sides to begin political negotiations due to the lack of consensus on the issue in Taiwan, with Liu saying that Beijing's insistence on the "one China" framework had also contributed to the stalemate.
Former SEF chairman Chiang Pin-kung (江丙坤) urged President Ma Ying-jeou (馬英九) to seek a bilateral peace agreement and a pact on military confidence-building measures with China before then end of his term, and called for granting Chinese television stations broadcasting licenses in Taiwan.
"To counteract the much-criticized media chaos in Taiwan, we can bring in TV stations like China Central Television and Phoenix Television, which present much better coverage of international news," Chiang said.
The proposal reflected the urgency for Taiwan to build up its confidence — economically and culturally — against a rising China, Chiang said, adding that Taiwan also has to be determined in carrying out trade liberalization and regional economic integration.
Comments will be moderated. Keep comments relevant to the article. Remarks containing abusive and obscene language, personal attacks of any kind or promotion will be removed and the user banned. Final decision will be at the discretion of the Taipei Times.