Image leads to hunt for Boston bombing suspect
The painstaking work to identify a bombing suspect from reams of Boston Marathon footage yielded a possible breakthrough as investigators focused yesterday on a man seen dropping off a bag and then walking away from the site of the second of two deadly explosions.
The discovery of the image — found on surveillance footage from a department store near the finish line — emerged two days after the attack that left three people dead, wounded more than 170 and cast a dark shadow over one of the city's most joyous traditions.
The footage has not been made public.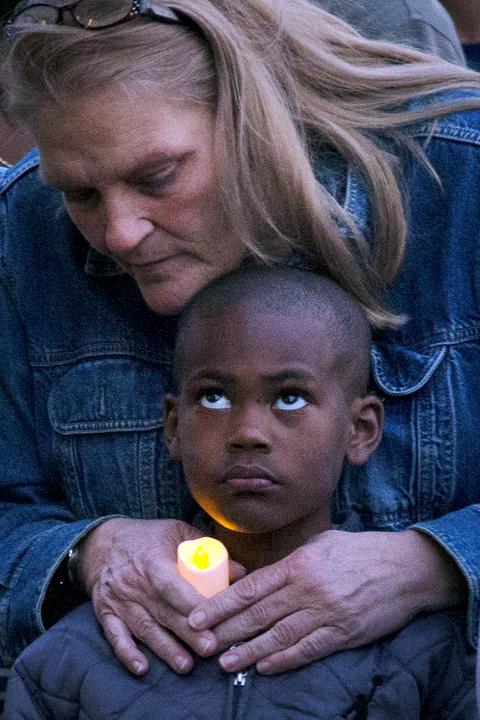 A woman hugs a boy during a vigil for Boston Marathon bomb victims outside Cambridge City Hall in Cambridge, Massachusetts, on Wednesday.
Photo: Reuters
US President Barack Obama planned to attend a service honoring the victims later yesterday in Boston, where police were stationed on street corners across downtown and some residents admitted they were still nervous.
People lined up hours ahead of time yesterday morning to get into the city's Roman Catholic cathedral for the interfaith service.
Massachusetts Governor Deval Patrick said he shared the frustration that the person or people responsible were still at large, but he said solving the case would not "happen by magic."
"It's going to happen by doing the careful work that must be done in a thorough investigation," Patrick said. "That means going through the couple of blocks at the blast scene square inch by square inch, and picking up pieces of evidence and following those trails, and that's going to take some time."
The bombs were crudely fashioned from ordinary kitchen pressure cookers packed with explosives, nails and ball bearings, investigators and others close to the case said. Investigators suspect the devices were then hidden in black duffel bags and left on the ground.
As a result, they were looking for images of someone lugging a dark, heavy bag. Investigators had appealed to the public to provide videos and photographs from the race finish line.
Boston City Council President Stephen Murphy, who said he was briefed by police, said investigators saw the image of the man dropping off a bag and matched the findings with witness descriptions of someone leaving the scene.
One department store video "has confirmed that a suspect is seen dropping a bag near the point of the second explosion and heading off," Murphy said.
Separately, a law enforcement official, who was not authorized to discuss the case publicly and spoke on condition of anonymity, confirmed only that investigators had an image of a potential suspect, whose name was not known to them and who had not been questioned. The official said investigators did not know the man's name.
Several media outlets reported that a suspect had been identified from surveillance video taken at a Lord & Taylor department store.
At least 14 bombing victims, including three children, remained in critical condition. Dozens of victims have been released from hospitals, and officials at three hospitals that treated some of the most seriously injured said they expected all their remaining patients to survive.
Boston remained under a heavy security presence, with scores of National Guard troops gathering among armored Humvees on Boston Common.
Kenya Nadry, a Web site designer, took her five-year-old nephew to a playground.
"There's still some sense of fear, but I feel like Boston's resilient," she said. "The fine men in blue will take care of a lot of it."
Comments will be moderated. Keep comments relevant to the article. Remarks containing abusive and obscene language, personal attacks of any kind or promotion will be removed and the user banned. Final decision will be at the discretion of the Taipei Times.