Ma meets with Mom Loves Taiwan
MEET THE PARENTS: Ma told an anti-nuclear power group that he planned to gradually phase out nuclear power and the AEC minister said waste disposal was not a problem
President Ma Ying-jeou (馬英九) yesterday met representatives of Mom Loves Taiwan, an association of mothers against nuclear power, at the Presidential Office for a hearing on nuclear safety.
The association was founded by several female public figures and celebrities, including Fubon Cultural and Educational Foundation board director Irene Chen (陳藹玲). Representatives who attended the meeting included Taiwan Foundation for Rare Disorders chairperson Serena Chen (陳莉茵), Taipei Parents' Association member Chang Yu-huei (常玉慧) and others, as well specialists.
When the association was established earlier this year, it said its main goals were to make Taiwan Power Co (Taipower, 台電) disclose all the facts about safety at nuclear power plants, become a platform for civic discussion, demand all dangerous nuclear plants stop operation, stop the construction of the Fourth Nuclear Power Plant and review and discuss new energy policies.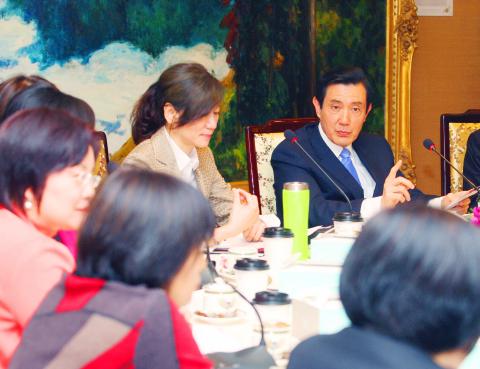 President Ma Ying-jeou meets with representatives of Mom Loves Taiwan in Taipei yesterday.
Photo: CNA
The Presidential Office said on Friday that before the national anti-nuclear protest on March 9, the office had already noticed that the public was concerned about nuclear safety and began making contact with civic groups, hoping to communicate with them.
Before the meeting, Irene Chen said the association would present four requests, including information disclosure, comprehensive re-evaluation of all nuclear power plants, new energy policies and that the Fourth Nuclear Power Plant issue not be decided by referendum.
Irene Chen said the association is not an anti-nuclear group, but aims to monitor, question and disseminate correct information on nuclear safety so people can make informed decisions. However, she said the safety of the Fourth Nuclear Power Plant is a big concern.
Ma said the government's nuclear power policy is to "ensure nuclear safety, steadily reduce [the use of] nuclear power, create a green low carbon environment and gradually achieve a nuclear-free homeland."
However, the goal must be achieved without power rationing, while maintaining reasonable electricity rates and abiding by international commitments on carbon reduction, he said.
As to the disposal of nuclear waste, Atomic Energy Council (AEC) Minister Tsai Chuen-horng (蔡春鴻) said there are about 80 low-radiation final disposal sites in the world, so the technology to achieve it should not be a problem, and spent fuel pools or deep underground storage for highly radioactive fuel rods are being planned.
Responding to concerns about the high population density in Greater Taipei near three nuclear power plants, as mentioned in the journal Nature in 2011, Premier Jiang Yi-huah (江宜樺) said it was a misunderstanding and the article highlighted the culture of safety and safety procedures rather than the density of the nearby population.
National Tsing Hua University nuclear engineering professor Yu Ge-ping (喻冀平) said nuclear power plants around the world are located within 75km of high population areas because the power demands are higher in these areas, and population density in these areas is not directly connected to nuclear safety.
However, several representatives were not satisfied with those answers and said the threat posed by radiation to people in a 20km range is different than posed to people within 75km, and "we care about the people [in this area]."
Comments will be moderated. Keep comments relevant to the article. Remarks containing abusive and obscene language, personal attacks of any kind or promotion will be removed and the user banned. Final decision will be at the discretion of the Taipei Times.