Magnitude 6.1 quake leaves one dead
86 INJURED: The earthquake forced the suspension of a number of rail services and trapped several people in elevators, government agencies reported yesterday
One person died and 86 were injured, as of press time, after the nation was hit by a magnitude 6.1 earthquake yesterday morning.
The National Fire Agency said that a 72-year-old woman in Nantou County's Jiji Township (集集) died after being crushed by a falling wall at Shengyuan Temple (盛元宮). The majority of the injuries were reported in Greater Taichung, with a number also occuring in Nantou County and Changhua County.
The earthquake caused a fire in Nantou County and trapped several people in elevators, the agency said.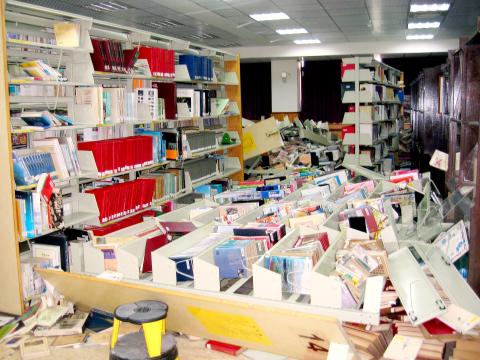 A photo released by Shin Min High School shows books fallen from library shelves at the school in Greater Taichung yesterday.
Photo: EPA
Several schools and homes were damaged as well.
The nation's two largest train systems — the Taiwan Railway Administration and the Taiwan High-Speed Rail Corp — were also affected by the earthquake and forced to temporarily stop or cancel some trains' operations.
The Directorate-General of Highways said that fallen rocks were found at the 64K and 73K milestones of Highway 14 and the 24K milestone of Highway 16.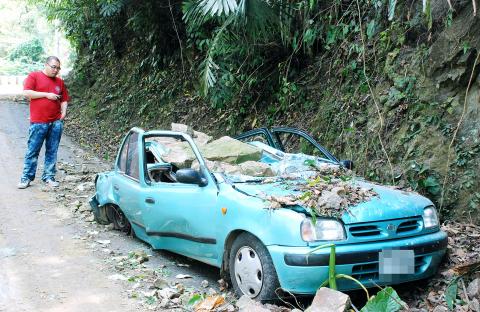 A car belonging to Lin Cheng-kuan, a resident of Caotun Township, Nantou County, was crushed by rocks in yesterday's earthquake.
Photo: Chen Feng-li, Taipei Times
Though the nation experiences frequent earthquakes, people were nevertheless frightened by the temblor.
Television news programs aired images from surveillance tapes, showing many primary-school students in Nantou County and Greater Taichung running out of their classrooms following the earthquake.
Information from the Central Weather Bureau showed that the earthquake occurred at 10:03am and its epicenter was 38.8km east of Nantou County's Renai Township (仁愛). It was categorized as a "very shallow earthquake," since its center was 15.4km below the surface.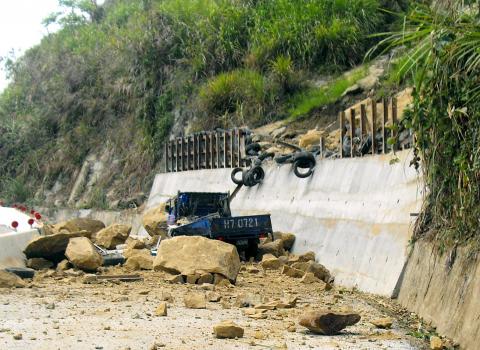 A photo released by Puli police shows a truck crushed by a rockfall during yesterday's earthquake in Nantou County.
Photo: EPA
The strongest intensity caused by the earthquake was magnitude 6, which was detected at Sun Moon Lake (日月潭) in Nantou County.
The intensity measured in Nantou City, Wufong (霧峰) in Greater Taichung and Yuanlin (員林) in Changhua County reached magnitude 5.
The intensity levels detected across the rest of the nation varied between magnitudes 2 and 4.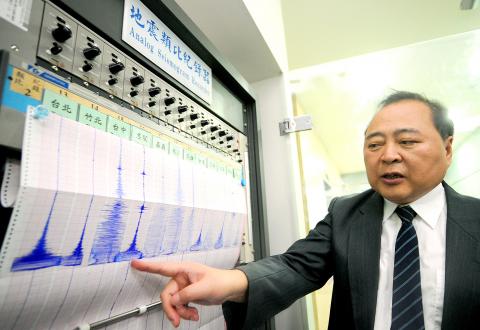 Kuo Kai-wen, director of the Seismological Center of the Central Weather Bureau, comments on the earthquake that rocked Nantou County yesterday.
Photo: Liu Hsin-de, Taipei Times
After the main earthquake, there were five aftershocks of magnitudes from 3.7 to 4.3.
Kuo Kai-wen (郭鎧紋), director of the bureau's seismological center, said that yesterday's earthquake was the largest so far this year. It was also the first earthquake this year with a magnitude exceeding 6.
Kuo added that the earthquake had occurred in a blind thrust fault that has yet to be identified in the Ministry of Economic Affairs' Central Geological Survey.
He said that blind thrust faults are found underneath the earth's surface and can only be detected using special scientific equipment or after earthquakes occur.
"For example, the 921 Earthquake in 1999 exposed the Chelungpu Fault (車籠埔斷層)," Kuo said.
"Since then, two major earthquakes have occurred east of Chelungpu, including a magnitude 6.7 earthquake in 2000 and a magnitude 6.15 one in 2009. Counting the one that happened yesterday, we can conclude that there is a new blind fault," he added.
Kuo said the power released by yesterday's earthquake was about 0.7 times the energy released when the atomic bomb was dropped in Hiroshima, which was about 1/64 that of the 921 Earthquake.
Comments will be moderated. Keep comments relevant to the article. Remarks containing abusive and obscene language, personal attacks of any kind or promotion will be removed and the user banned. Final decision will be at the discretion of the Taipei Times.