Pope Francis calls for love in first homily
Pope Francis urged princes, presidents, sheiks and thousands of ordinary people gathered for his installation Mass yesterday to protect the environment, the weakest and the poorest, mapping out a clear focus of his priorities as leader of the world's 1.2 billion Catholics.
The Argentine native is the first pope from Latin American and the first named for the 13th-century friar St Francis of Assisi, whose life's work was to care for nature, the poor and most disadvantaged. In a fitting note, he promised that a little bit of tenderness can "open up a horizon of hope."
Francis thrilled the crowd at the start of the Mass by taking a round-about through the piazza and getting out to bless a disabled man.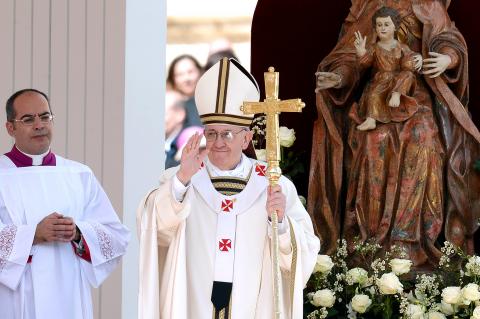 Pope Francis waves during his inauguration Mass yesterday at the Vatican.
Photo: AFP
He was interrupted by applause several times during his homily, including when he spoke of the need to protect the environment, serve one another with love and not allow "omens of destruction," hatred, envy and pride to "defile our lives."
Francis said the role of the pope is to open his arms and protect all of humanity, but "especially the poorest, the weakest, the least important, those whom Matthew lists in the final judgment on love: the hungry, the thirsty, the stranger, the naked, the sick and those in prison."
He directed his homily to the states of head in attendance, saying: "I would like to ask all those who have positions of responsibility in economic, political and social life, and all men and women of goodwill: Let us be protectors of creation, protectors of God's plan inscribed in nature, protectors of one another and of the environment."
Comments will be moderated. Keep comments relevant to the article. Remarks containing abusive and obscene language, personal attacks of any kind or promotion will be removed and the user banned. Final decision will be at the discretion of the Taipei Times.