Brother of decapitated woman arrested for murder
The brother of a woman whose decapitated head was found on Friday in a lavatory has been arrested on suspicion of murder.
New Taipei City (新北市) Sanchong Police Precinct deputy director Hsu Hsin (徐歆) said the victim was confirmed to be Chen Wan-ting (陳婉婷), a woman who suffered from mental illness who lived in the city's Sanchong District (三重) with her brother, Chen Chia-fu (陳佳富), and had been reported missing on Dec. 17.
Based on the preliminary investigation, Chen Chia-fu has been identified as the prime suspect in the case and was brought in for questioning at the Sanchong Precinct on Saturday night.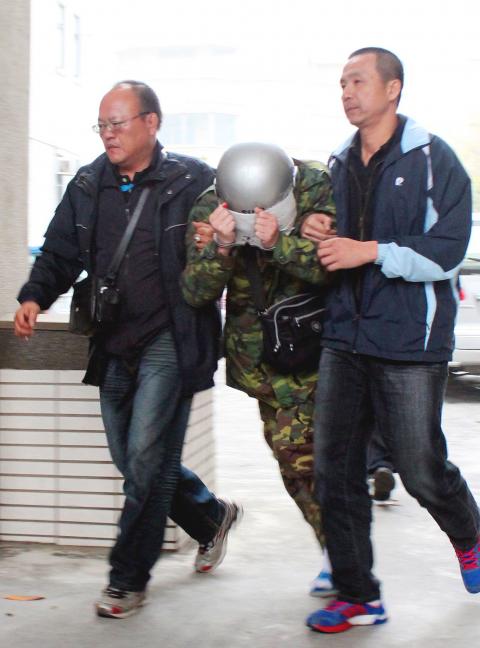 Chen Chia-fu is detained by police in New Taipei City yesterday.
Photo: CNA
Investigators found that Chen Chia-fu, a chef who also suffered from mental illness, took out five life insurance policies on his sister last year, worth a total of about NT$5 million (US$151,000).
Investigators said that surveillance cameras in the vicinity of Chen Chia-fu's residence captured at 4am on Wednesday a man resembling him leaving with a large, black garbage bag.
Footage recorded at about 11am on the same day by cameras near where the head was discovered captured a man wearing a face mask, sunglasses, a hat and a wig who resembled Chen Chia-fu, investigators said.
Chen Chia-fu was vague when questioned and denied any involvement in the murder. The Chiayi District Prosecutors' Office issued a warrant for his arrest yesterday to take him in for a second round of questioning in Chiayi, where his sister's head was discovered.
The head was found sprinkled with salt and wrapped in clothing and layers of plastic bags with a piece of paper written with the name Chen Wang-ting in the men's lavatory at Shangtian Temple in Shueishang Township (水上).
An anonymous letter from someone claiming to be a "kind-hearted man" led the police to the remains. Sent from a non-existent address in Taoyuan County to Sanchong Precinct's Datong police station, where Chen Wan-ting's mother had reported her missing, the letter told police that a severed head had been placed in a public washroom 200m from the Chiayi County Farmers' Cooperative Association and asked "kindhearted police officers to help out and take care of the corpse."
Police said they were reviewing Chen Chia-fu's telephone records and analyzing evidence collected from his residence, adding that they were searching for the rest of Chen Wan-ting's body, and trying to ascertain the suspect's motive and how the victim was murdered.
Comments will be moderated. Keep comments relevant to the article. Remarks containing abusive and obscene language, personal attacks of any kind or promotion will be removed and the user banned. Final decision will be at the discretion of the Taipei Times.