Losheng activists target premier
SAVING THE SANATORIUM: Of 14 students arrested, 13 were released soon after, while another was charged with violating the Social Order Maintenance Act, but was cleared
Activists yesterday clashed with police during a protest outside Premier Jiang Yi-huah's (江宜樺) residence, asking him to halt construction work at Losheng (Happy Life) Sanatorium and rebuild demolished buildings on the site.
"Premier Jiang, please save Losheng, halt the construction, rebuild the sanatorium," dozens of members of the Youth Alliance for Losheng shouted as they clashed with police outside the premier's residence in Taipei.
The activists arrived outside Jiang's residence at about 6am without prior notice, hoping to see Jiang and deliver their petition to him before he left for work.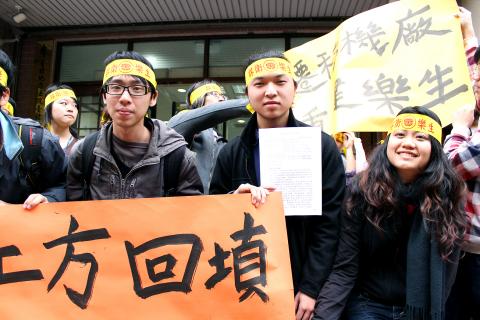 Campaigners for the preservation of Losheng Sanatorium celebrate outside the Taipei District Court yesterday after student Kuo Kuan-chun, second right, was acquitted of charges under the Social Order Maintenance Act.
Photo: Hou Po-ching, Taipei Times
However, though the shouting attracted the attention of Jiang, who looked out from a second-floor window for a few seconds, he neither met with the students nor took their petition.
Police quickly removed the protesters by force and arrested 14.
Jiang made no comment on the protest when he left home at about 8am.
"We came here to see Jiang, because when we went to the Executive Yuan on Feb. 27, he simply ignored us," Lin Ching (林沁), a National Taiwan University (NTU) student and a member of the alliance, told reporters. "In March last year, the government promised that construction at Losheng Sanatorium — suspended due to landslides — would not resume until they find a way to solve the landslide issue. However, construction resumed last week."
"As a political science professor at NTU, Jiang visited Losheng in 2007 and signed a petition to support its preservation. We want to remind him of the promise he made, and ask him to host talks to resolve the issue," Lin said.
Losheng Sanatorium, located in New Taipei City's (新北市) Sinjhuang District (新莊), was built in the 1930s for people with leprosy.
A movement to preserve the sanatorium complex began in 2004 when it was selected as the site for a Mass Rapid Transit system maintenance depot and was to be completely demolished.
In 2007, a compromise plan allowed for the preservation of a small part of the complex, while the rest was to be demolished.
However, work has stopped several times due to landslides.
Another NTU student, Lin Hsiu-tung (林秀芃), accused Jiang of "not wanting to face the mistakes that the government made."
"He saw us from his second-floor window, but would not meet us or speak with us," Lin said.
Of the 14 students arrested, 13 were released soon after, while 21-year-old NTU student Kuo Kuan-chun (郭冠均) was charged with violations of the Social Order Maintenance Act (社會秩序維護法).
Several activists rallied outside the Taipei District Court in support of Kuo and accused the police of brutality as Kuo appeared in court.
At about 4:30pm, Kuo walked free as the judge cleared him of any wrongdoing.
Comments will be moderated. Keep comments relevant to the article. Remarks containing abusive and obscene language, personal attacks of any kind or promotion will be removed and the user banned. Final decision will be at the discretion of the Taipei Times.