Jiang to take over as Sean Chen quits
CABINET RESHUFFLE: Several lawmakers criticized the lack of changes in key economic posts, while others said the president had again picked another close confidante
Vice Premier Jiang Yi-huah (江宜樺) will replace Premier Sean Chen (陳冲), who has resigned because of health reasons, the Presidential Office said in a statement issued late on Thursday evening.
The statement, issued at about 11:30pm, said Chen had offered to resign on several occasions because of poor health, but that President Ma Ying-jeou (馬英九) only approved the resignation this week.
The statement came after the Chinese Television System (CTS) reported earlier that evening that Jiang was to replace Chen as premier, while Minister of Transportation and Communications Mao Chi-kuo (毛治國) would succeed Jiang as vice premier.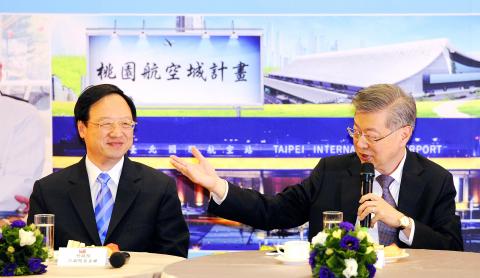 Premier Sean Chen, right, is joined by his successor, Vice Premier Jiang Yi-huah, at a press conference yesterday. Jiang is scheduled to take over from Chen on Thursday after Chen tendered his resignation for health reasons.
Photo: George Tsorng, Taipei Times
The Presidential Office statement lauded Chen for his expertise and leadership in implementing government policies — from fuel price changes to pension reforms — and working with the president to promote social justice. It said that Ma's decision to appoint Jiang and Mao was made after careful consideration and consultation with various authorities.
Chen told a year-end Cabinet press conference yesterday that he resigned to "reverse my health condition" after a recent health examination made him "worried about [his] health."
Chen said the president was originally scheduled to unveil the Cabinet reshuffle next week, but that a media leak prompted Ma to call an impromptu meeting with him, Jiang and Mao late last night at the president's residence, which was followed by the midnight announcement of the changes.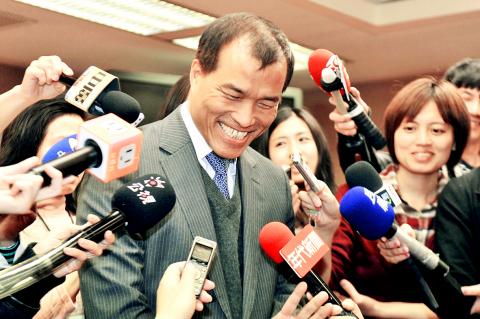 Deputy Minister of Transportation and Communications Yeh Kuang-shih, center, declines to comment yesterday morning on whether he would become minister.
Photo: Chen Chih-chu, Taipei Times
He dismissed media reports that he had been "shocked" at the announcement.
Chen said Ma accepted his resignation on Monday, when the president spoke to him by telephone. He said he first talked of his intent to step down on Jan. 16, which was followed by a written resignation letter to Ma on Jan. 23.
Chen said he had been experiencing chest pains since the beginning of the year and had a cardiac CT scan and other health tests on Jan. 15.
"The findings worried me a bit," he said.
After listening to the doctor's explanation of the test results and doing some medical research, Chen said he realized he would not be able to reverse his health condition unless he made substantial changes to his work and lifestyle.
The following day, he asked the president to look for his replacement and submitted his written resignation on Jan. 23, explaining in detail his reason for leaving.
Chen said he told Ma in the letter that he is willing to make sacrifices for the nation, but "it would be an unbearable and irreversible burden" for him if national interests were compromised because of his health problems.
During a telephone conversation, the president told him that after giving the matter long consideration, he decided to accept the resignation and would designate Jiang as premier.
Chen also denied earlier media rumors that he was being considered to succeed central bank Governor Perng Fai-nan (彭淮南), whose third term of office expires on Feb. 25.
At a separate setting, Jiang said he had agreed on Sunday to assume the premiership, when Ma called him to a meeting that night and told him that Chen was resolute about resigning because of health reasons.
"President [Ma] said he did not have the heart to persuade Premier Chen to stay on because that could be harmful to his health," Jiang said.
Jiang said that Ma began asking him if he was willing to take over as premier sometime in the second half of last month, and that he told the president either to try to retain Chen if his health permits or to consider other candidates who are more capable.
Praising Chen for his achievements during his one-year tenure, Jiang said he could never do a better job than Chen, but he eventually agreed to shoulder the responsibility because Chen "needs to have a good rest" to recover.
"I am willing to undertake the task to move the [nation] forward and create a better future," he said.
The latest Cabinet reshuffle has consolidated Jiang's political strength within the KMT and sparked heated discussion about an internal power struggle among potential top contenders for the party's presidential nomination in 2016 — including Vice President Wu Den-yih (吳敦義), Taipei Mayor Hau Lung-bin (郝龍斌) and New Taipei City (新北市) Mayor Eric Chu (朱立倫).
Chu congratulated Jiang and praised him for his capabilities and profound knowledge on various issues, saying he expected Jiang to handle national affairs well.
Hau also lauded Jiang for his communication and execution skills, and said the new Cabinet should strengthen its efforts to promote fiscal and economic policies because reviving the nation's economy is the government's priority.
He declined to comment when asked about potential plans to run in the 2016 presidential race, stressing the importance of party unity.
Democratic Progressive Party Chairman Su Tseng-chang (蘇貞昌) criticized the Presidential Office's late-night announcement of the changes as "ridiculous," while former president Lee Teng-hui (李登輝) said it was not appropriate, adding that matters of such scope should have been announced in daytime.
A number of pan-blue lawmakers said the Cabinet reshuffle was pointless if officials in charge of economic affairs were not replaced, while pan-green lawmakers said Jiang's appointment once again showed that Ma only picks people from his small circle of confidantes.
The Executive Yuan also announced that Vice Minister of Transportation and Communications Yeh Kuang-shih (葉匡時) would succeed Mao, and that Taipei Deputy Mayor Chen Wei-jen (陳威仁) would be the new Cabinet secretary-general, replacing Steven Chen (陳士魁), who would become a minister without portfolio.
Perng will be reappointed for a fourth five-year term as central bank chief, sources said.
The handover ceremony for the premier will likely take place on Thursday, the sources added.
Additional reporting by Rich Chang and staff writer
Comments will be moderated. Keep comments relevant to the article. Remarks containing abusive and obscene language, personal attacks of any kind or promotion will be removed and the user banned. Final decision will be at the discretion of the Taipei Times.