China calls US warning on Diaoyutais 'betrayal'
WAR OF WORDS: Hillary Clinton made a veiled warning that the islands fall under the US-Japan security treaty, as three Chinese government ships entered their waters
Veiled US warnings to Beijing not to challenge Japan's control of disputed islands encouraged Tokyo's "dangerously right-leaning" government and "betrayed" Washington's vow of neutrality, Chinese state media said yesterday.
The comments came as Japan's coastguard said three Chinese government ships had entered Japanese territorial waters around the Diaoyutai Islands (釣魚台), known as the Senkakus in Japan.
US Secretary of State Hillary Rodham Clinton on Friday said the area around the islands in the East China Sea was under Japan's control and therefore protected under a US security treaty with Tokyo.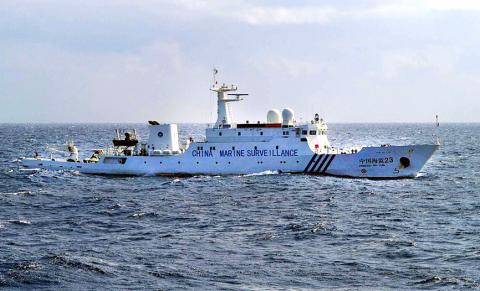 A picture taken by the Japan Coast Guard yesterday shows a Chinese Marine Surveillance ship cruising inside waters around the Diaoyutai Islands, known as the Senkaku Islands in Japan.
Photo: AFP / JAPAN COAST GUARD
Speaking at a joint news conference with Japanese Foreign Minister Fumio Kishida in Washington, and without mentioning Beijing directly, she said the US opposed "any unilateral actions" to undermine Japanese authority over the islands.
"We oppose any unilateral actions that would seek to undermine Japanese administration," Clinton told a joint news conference with Kishida.
Clinton did not mention Beijing directly in the warning, but said: "We want to see China and Japan resolve this matter peacefully through dialogue."
"We do not want to see any action taken by anyone that could raise tensions or result in miscalculation that would undermine the peace, security and economic growth in this region," she said.
Clinton announced that Japanese Prime Minister Shinzo Abe would visit the US next month.
In a commentary piece, Xinhua news agency criticized Washington's position, saying it "cast doubts on [US] credibility as a responsible power in the region."
It was "unwise" for Washington "to throw support behind Japan in Tokyo's islands dispute with Beijing," Xinhua said, adding: "This unbalanced position has betrayed its declared intention to stay neutral on the issue."
The US proposal for "tighter military alliance with Japan will only encourage Tokyo's dangerously right-leaning tendency," Xinhua said.
Three Chinese government surveillance vessels sailed in waters around the disputed islands yesterday for nearly five hours, but had all left Japanese waters by 1:52pm, the Japanese coast guard said.
China has repeatedly sailed into the waters since Japan bought three islets in the chain in September last year, a move that triggered anger and demonstrations in China.
The US insists it is neutral on the ultimate sovereignty of the islands.
China has persistently criticized the US position and the sending of maritime surveillance ships to the potentially gas-rich area is seen by experts as a way to contest the notion that Japan holds effective control.
"The frequency and scale of their provocations have drastically increased," Japanese foreign ministry spokesman Masaru Sato told reporters in Washington.
"The Chinese are trying to change the existing order by coercion or intimidation," he said.
Abe has been known throughout his career as a hawk on national security, but Kishida took a measured tone on China while in Washington, describing the relationship with Beijing as "one of the most important" for Japan.
"While Japan will not concede and will uphold our fundamental positions that the Senkaku Islands are an inherent territory of Japan, we intend to respond calmly so as not to provoke China," Kishida said.
Kishida welcomed Clinton's support, saying that the statement on the security treaty "will go against any unilateral action that would infringe upon the administration rights of Japan."
US officials and pundits have largely welcomed the return of the Liberal Democratic Party, believing that Abe's firm positions and pledges to boost military spending will deter confrontational moves by Beijing.
However, Abe in the past has made controversial statements on Japan's wartime history, leading to fears that a loose comment could set off new tensions at a time that new leaders are also taking charge in China and South Korea.
Clinton said US officials "applaud the early steps" taken by Abe and hoped that new leaders in Japan and China would "get off to a good start."
Comments will be moderated. Keep comments relevant to the article. Remarks containing abusive and obscene language, personal attacks of any kind or promotion will be removed and the user banned. Final decision will be at the discretion of the Taipei Times.