Angry students protest over KMT's retreat on media
Upset at the Chinese Nationalist Party (KMT) caucus' decision to withdraw its support for bill against media monopolization proposed by the Democratic Progressive Party caucus, about 30 members from the Youth Alliance Against Media Monsters yesterday staged a surprise demonstration at the Legislative Yuan, asking to meet with KMT legislators to discuss the issue and later clashing with police.
The students showed up around noon outside the legislature in Taipei, quickly ran through the back gate and rallied outside the back entrance to the General Assembly Hall.
Wearing headbands that read "Keep your word" and holding up banners with slogans against media monopolies, the students called on KMT lawmakers to meet them and explain their overnight change of attitude toward the bill.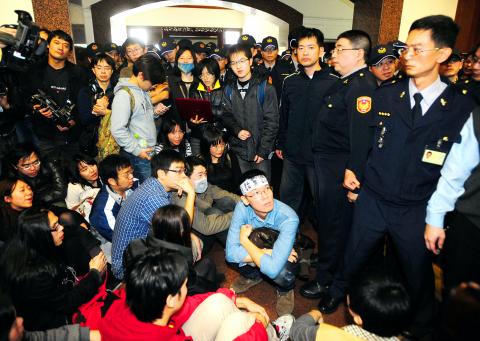 Members of the Youth Alliance Against Media Monsters protest outside the Legislative Yuan in Taipei yesterday as legislators voted on proposed amendments to the Radio and Television Act, the Satellite Broadcasting Act and the Cable Television Act aimed at preventing media monopolization. The amendments were rejected.
Photo: Wang Yi-sung, Taipei Times
Police guarding the legislature failed to stop them, as there was only one officer guarding the back gate and there were not enough officers in the compound to force them out.
The students were later invited by KMT caucus whip Wu Yu-sheng (吳育昇) to a meeting, in which the students asked Wu to apologize for breaking his promise and to make a renewed promise to support the DPP proposal.
"I have done nothing that I should feel sorry about to the public," Wu responded. "I will not apologize."
As for his stance on media monopoly, Wu said that he is against monopolization of media outlets, "but we need more time to come up with a better draft law, instead of expediting its passage."
Wu left not long after he made the remarks. Unsatisfied, the students started a sit-in protest, blocking the front entrance of the Legislative Yuan for more than an hour.
Scuffles broke out when the students tried to force their way back into the Legislative Yuan, but were pushed out by police. Some students were injured.
"We will come back," Lin Fei-fan (林飛帆), a student leader told the crowd. "We will come back to remind lawmakers to keep their word."
"It's obvious that big business and capitalists have been working hard at lobbying the KMT, which is why it has changed its stance overnight. That is what we're fighting against," he added.
Comments will be moderated. Keep comments relevant to the article. Remarks containing abusive and obscene language, personal attacks of any kind or promotion will be removed and the user banned. Final decision will be at the discretion of the Taipei Times.