US 'grandriders' set off on round Taiwan trip
A group of 10 US motorcyclists embarked on a week-long "dream ride" around the nation yesterday, aiming to spread the message that people are never too old to realize their dreams.
Headed by documentary filmmaker Peter Starr, the group set off on a 500km-plus ride from Taichung early yesterday morning.
"I came over here a year ago, based on seeing a video," Starr said before the ride.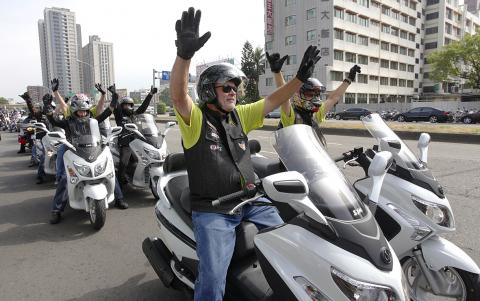 A group of elderly US and Taiwanese motorcyclists set off from Greater Taichung yesterday on a tour of Taiwan.
Photo: Chan Chao-yang, Taipei Times
"I was so impressed with everything that happened, not only with the riders and the ride, but the people of Taiwan generally," he said.
Starr, who came to Taiwan and took a 1,100km ride around the nation then, said he hoped to increase the level of communication between Taiwanese and US riders.
Of the 10 US riders, five are more than 65 years old and the average age of the whole group is 72.
The eldest of the 10 US riders is Gerald Larson, 79, who said the trip would be a great way to commemorate his 80th birthday on Friday.
"The [Taiwanese] 'grandriders' epitomize the dreams and the energy of seniors," Larson said. "It's a great pleasure and honor to be with them."
The US riders will take a shorter route, heading south to Chiayi County and Alishan, before turning east to Sun Moon Lake (日月潭) in Nantou County and then to Hualien and Yilan counties.
Their route will then wind from Yilan County back to Taipei on Monday.
Starr said the trip was organized to pay tribute to Taiwan's "grandriders," the group of elderly motorbike enthusiasts who inspired him and other US motorcyclists to pursue their dreams.
An editor at Motorcyclist Magazine and a producer at the Discovery Channel, Starr visited Taiwan last year to interview the Taiwanese "grandriders," who became well known after a video of a bank commercial commemorating their trip around Taiwan was posted on YouTube.
Five years ago, the 17 men, with an average age of 81, embarked on a 1,178km journey around Taiwan by motorcycle to fulfill their dream of seeing every part of the country.
This year, their adventure was made into a 90-minute film, Go Grandriders (不老騎士), which has taken in NT$4 million (US$136,900) at the box office so far, according to the film company.
Comments will be moderated. Keep comments relevant to the article. Remarks containing abusive and obscene language, personal attacks of any kind or promotion will be removed and the user banned. Final decision will be at the discretion of the Taipei Times.