Ma could lead to nation's collapse: Nan Fang Shuo
President Ma Ying-jeou's (馬英九) administration has been careless and ignorant and its lack of correct judgement could lead to Taiwan's collapse and "elimination" from global competition, political commentator Nan Fang Shuo (南方朔) said yesterday.
The commentator had supported Ma, but has been accusing the president of performing poorly over the past year. He was again scathing of Ma at the Open Studio forum, organized by the Democratic Progressive Party (DPP) on the topic of political reform.
"Ma has been heedless of people's suffering and problems because of his privileged upbringing, which was why he cannot relate to people's lives … And the insistence on sticking to outdated theories shows the collective ignorance of Ma and his administration," he told the forum, which was hosted by DPP Chairman Su Tseng-chang (蘇貞昌).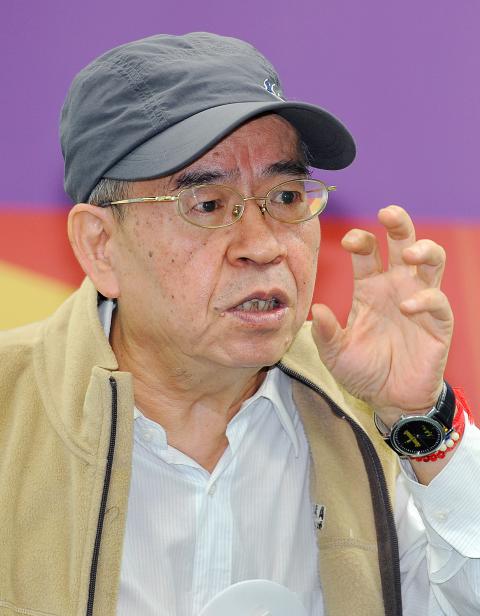 Pundit Nan Fang Shuo speaks at a forum hosted by the Democratic Progressive Party in Taipei yesterday.
Photo: Liao Chen-huei, Taipei Times
Nan Fang Shuo said he does not subscribe to determinism based on class, but said only those leaders who have lived with their people know what they truely want, and Ma was not one of those leaders.
Ma also tended to value degrees and doctorates above all else, he said, "but knowledge and judgement are different things."
For example, he said, officials have made a great mistake in believing that economic liberalization and tax cuts were appropriate policies and they have lowered inheritance and business taxes hoping to attract foreign direct investment, which never happened.
Another example could be explained by the cover story of the latest issue of The Economist, which discussed the theory of a new progressivism that seeks to tackle inequality without hurting economic growth, he said.
"In Taiwan, we still believe that increased wages only hurt competitiveness," he said.
"The key word for Taiwan is transformation. We need a transformation in politics, society, economy and culture," he said, adding that Ma was too indecisive and that his usage of "wrong knowledge" would prevent Taiwan from achieving that goal.
Ma was not alone in his poor performance, he added, because a lack of true leadership has been a global phenomenon since the 1970s and modern day politicians have become showmen who simply need to know how to cater to the media and their supporters.
Nan Fang Shuo praised South Korea's determination to achieve reform, saying that was the key factor that allowed the country to make a quantum leap and become a strong economy. An economy based on high precision and a craft manufacturing industry would be a better option for Taiwan, he said.
On domestic politics, he said the notion of "a political fight between the pan-blue and the pan-green camp" has been abused and used as an excuse for a lack of progress by politicians and businesspeople alike.
"The ruling party controls about 90 percent of the resources, compared with the opposition's 10 percent. I wouldn't call that a fight," he said.
The DPP should keep monitoring the government, he said, and it could also apply leverage on several counties and cities it governed to "make things happen." The party could not afford to sit and watch the Ma administration fail, thinking that would bring it victory in the 2016 presidential election, he said.
Comments will be moderated. Keep comments relevant to the article. Remarks containing abusive and obscene language, personal attacks of any kind or promotion will be removed and the user banned. Final decision will be at the discretion of the Taipei Times.