Designer, executive die in shootings in New York
A laid-off clothing designer fatally shot an executive at his former company outside the Empire State Building on Friday, setting off a chaotic showdown with police in front of one of the world's best-known landmarks. Officers killed the gunman and at least nine others suffered minor wounds, likely all of them by stray police gunfire, authorities said.
The gunshots rang out on the Fifth Avenue side of the building at about 9am, when pedestrians on their way to work packed sidewalks and merchants were opening their shops.
Wearing an olive suit and tie, and carrying a briefcase, Jeffrey Johnson walked up to the import company vice president, Steven Ercolino, put a gun to his head and fired without saying a word, authorities said. A witness told investigators that Johnson shot Ercolino once in the head and, after he fell to the sidewalk, stood over him and shot him four more times.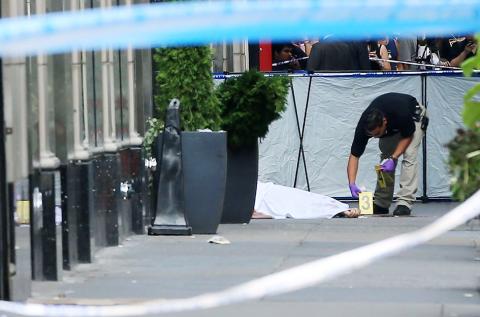 A New York Police officer investigates by the covered body of a shooting victim near the Empire State Building on Friday.
Photo: AFP
The gunman walked away and calmly turned up 5th Avenue, where he blended in with the crowd, police said.
A construction worker who saw the shooting followed Johnson and alerted two police officers.
Johnson was walking rapidly down the street trailed by the police officers when he stopped, wheeled around and pulled out a gun. He pointed the gun at the officers, who quickly fired at him.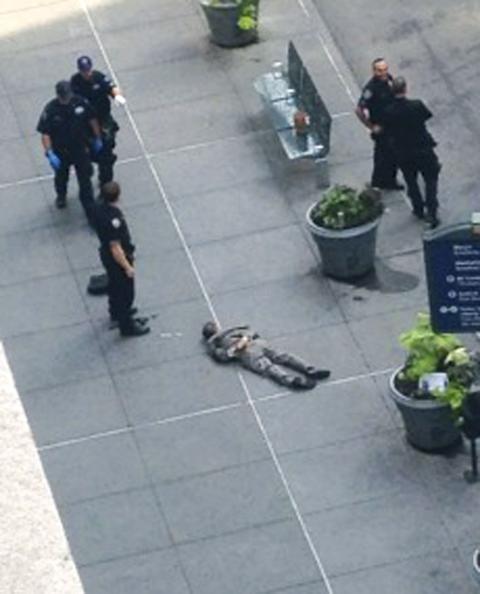 Police look on after shooting gunman Jeffrey Johnson near the Empire State Building in New York on Friday.
Photo: Reuters
Johnson dropped his briefcase, fell to his knees and then collapsed on the ground.
The bystanders likely were hit by police officers' stray gunfire, some of it bullets that rebounded off planters in front of the skyscraper and grazed pedestrians.
Comments will be moderated. Keep comments relevant to the article. Remarks containing abusive and obscene language, personal attacks of any kind or promotion will be removed and the user banned. Final decision will be at the discretion of the Taipei Times.