Leading Catholic figure Cardinal Paul Shan passes away
Cardinal Paul Shan (單國璽) passed away at Cardinal Tien Hospital at 6:42pm yesterday from pneumonia, hospital authorities said.
Born in 1923 in Henan Province, China, Shan became a priest in the Philippines in 1955 and subsequently became the first cardinal in Taiwan after being appointed by Pope John Paul II in 1998.
Hsu Cheng-tao (許承道), a pastor and spokesman for the Presbyterian Church in Taiwan, said he was saddened to hear of the passing of a leading figure in Taiwan's religious community.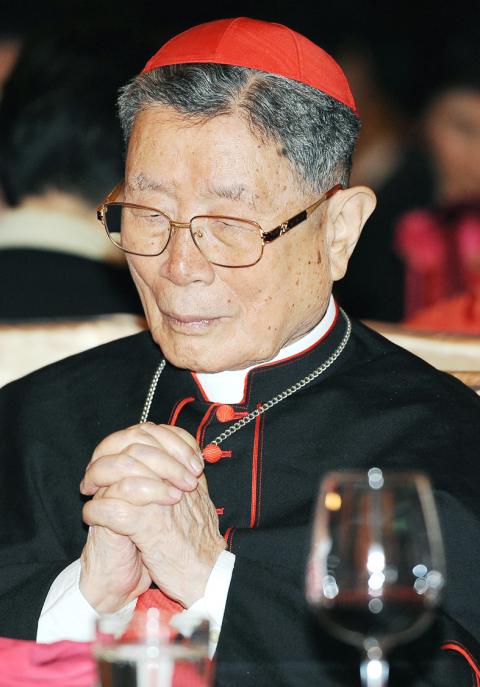 Cardinal Paul Shan is pictured in Taipei on April 13.
Photo: Chu Pei-hsiung, Taipei Times
Although the Roman Catholic Church has been divided from Protestant denominations for more than 500 years, the Catholic Church has been calling for dialogue since the 1960s, Hsu said.
He added that Shan had spearheaded efforts to reconcile the churches in Taiwan.
Shan also maintained close contact with Buddhist figures such as Dharma Drum Mountain (法鼓山) Master Sheng Yen (聖嚴法師) and Master Hsing Yun (星雲法師), founder of the Buddhist organization Fo Guang Shan.
The contacts helped contribute to interaction between the major religious groups in Taiwan.
Prior to his passing, Shan toured all seven dioceses in Taiwan to talk about his life.
Through his belief in Christ, he said he had gained a connection with eternal life, making death a tunnel, not an end, through which one must pass to enter the next life.
"Although many people greatly anticipate their next lives, one must use one's time in this life wisely and make the most of every day that the Lord gives us," Shan said.
Additional reporting by Jennifer Huang
Comments will be moderated. Keep comments relevant to the article. Remarks containing abusive and obscene language, personal attacks of any kind or promotion will be removed and the user banned. Final decision will be at the discretion of the Taipei Times.