Southern Russia reels from floods as toll climbs to 150
Russia yesterday scrambled to deal with the aftermath of devastating flash floods that killed at least 150 people and swept away homes in the southern Krasnodar region's worst natural disaster in history.
Russian President Vladimir Putin personally inspected the worst-hit areas on Saturday evening, the first major disaster since he came back to the Kremlin for a third term in May. Putin compared the force of the water, which trapped people in their homes at night, ripped up pavements and traffic lights and flooded rail tracks, to a tsunami. He also quickly moved to address panicky speculation that the deluge was caused by an emergency opening of floodgates at a local reservoir, with the Kremlin issuing a statement that Putin had been told it was not the cause of the flooding.
At least 150 people died in the disaster, including in the port of Novorossiisk and the popular Black Sea resort town of Gelendzhik, where five were electrocuted, a regional police spokeswoman in the city of Krasnodar said.
A photograph made available yesterday shows local residents walking along a street passing wreckage after flash flooding hit Krymsk, Russia.
Photo: EPA
The worst hit area was a district around Krymsk, a town of 57,000 where rescue teams have found 139 bodies, including those of a one-year-old toddler and a 10-year-old child. Most of the victims were pensioners, many caught by the floods in their sleep.
Krymsk is about 200km northwest of the Black Sea resort of Sochi, where Russia is hosting the 2014 Winter Olympic Games.
Flash floods frequently batter towns along the picturesque Black Sea coast during seasonal rains in the Caucasus mountains, but authorities say the current disaster is unprecedented.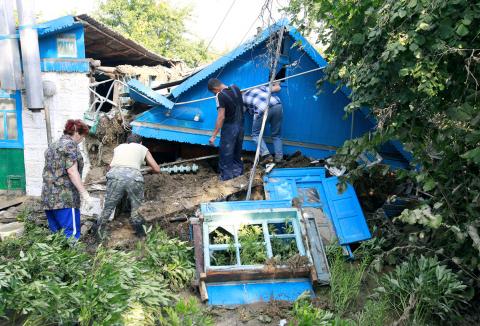 Local residents work amidst the debris of a house, damaged by floods, in the town of Krymsk in Krasnodar region, southern Russia yesterday.
Photo: Reuters
Officials have been unable to explain the massive death toll, saying only the floods were caused by torrential rains and caught many people unaware.
The force of the water was so ferocious that many residents said they suspected the floods were a man-made disaster caused by a release of water at a local reservoir on the Naberdzhai River.
In a bid to address persistent concerns, Putin, wearing a black shirt, was shown on TV grilling officials about whether an emergency release of water was possible at the Naberdzhai reservoir.
"Where did the water come from?" Putin asked government officials in televised remarks.
Krasnodar Governor Alexander Tkachev swiftly replied: "It was raining."
However, investigators acknowledged yesterday that repeated releases of water did happen, but it remained unclear whether it might have contributed to the disaster.
"Over the course of 13 hours, portioned releases of water were repeatedly conducted in an automated mode, but there were not some large-scale water releases. We will have yet to establish how much they could have affected the development of events. It is too early to say whether this [the floods] was the consequence of these releases," Ivan Sengerov, a spokesman for regional investigators, said in televised remarks.
Tkachev had earlier called on people to stop spreading "stupid rumors," saying on Twitter that the region received five months' worth of rain.
However, some residents said they had no trust in the officials, accusing them of a cover-up.
"It always rains here, but we've never had this before. A 7m-tall wave crushed everything," Irina Morgunova said in Krymsk. "That is not rain, but no one will ever say it out loud."
Comments will be moderated. Keep comments relevant to the article. Remarks containing abusive and obscene language, personal attacks of any kind or promotion will be removed and the user banned. Final decision will be at the discretion of the Taipei Times.