Legislator's shirt gets her booted out of WHA forum
Taiwan Solidarity Union (TSU) Legislator Lin Shih-chia (林世嘉) was escorted out of the 65th World Health Assembly (WHA) meeting in Geneva on its opening day on Monday and had her observer credentials confiscated for wearing a T-shirt with the words "Taiwan is Taiwan, not China."
Lin said her T-shirt was "a form of silent protest" against President Ma Ying-jeou's (馬英九) references to "one country, two areas (一國兩區)" in his inauguration speech on Sunday, adding that she wanted to send a clear message that Taiwan is not a part of China.
"I took off my jacket while WHO Director-General Margaret Chan (陳馮富珍) was addressing the assembly in a bid to make a clear statement that the 'one country, two areas' framework does not exist in Taiwan," Lin said in a telephone interview with the Central News Agency yesterday.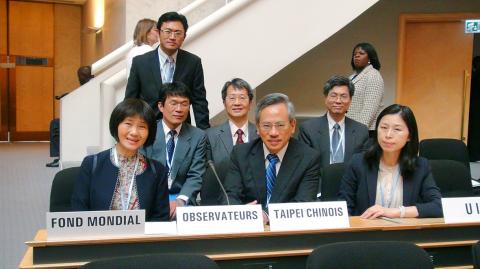 Department of Health Minister Chiu Wen-ta, front center, takes his seat with other Taiwanese delegates yesterday at the 65th World Health Assembly in Geneva, where Taiwan has observer status under the name "Chinese Taipei."
Photo: CNA
Shortly after her "silent protest," Lin said she was asked to leave the conference hall by the WHO's security staff, but added that she left on her own initiative and did not cause any disturbance.
Displaying the T-shirt was only a way of expressing her stance in a silent manner, but the WHO could not tolerate such an approach, Lin said.
"How much diplomatic space does Taiwan really have left?" Lin said indignantly.
"If I were wearing a T-shirt that read 'I am Lady Gaga's little monster,' maybe I would not have been treated in such a manner," she said.
Commenting on the incident, Department of Health Minister Chiu Wen-ta (邱文達) said that opinions should be expressed in a manner that conforms with international protocol.
On a comment in which he was quoted by Chinese Nationalist Party (KMT) Legislator Su Ching-chuan (蘇清泉) as having said that Chan asked Chiu "why would [you] create trouble during my speech?" the health minister denied the WHO director-general mentioned the issue during an informal meeting, adding that she merely came and said hello.
Lin said she had applied to take part in the WHA as a Taiwanese observer in the past, but had been refused. She said she was only granted observer status this year in her capacity as a lawmaker and with help from Taiwanese representatives in Europe.
Expressing regret over Lin's eviction, Taiwan's representative office in Geneva said Lin had been escorted out in accordance with WHA regulations, which stipulate that participants cannot take slogans, flyers or propaganda material into the conference hall.
Comments will be moderated. Keep comments relevant to the article. Remarks containing abusive and obscene language, personal attacks of any kind or promotion will be removed and the user banned. Final decision will be at the discretion of the Taipei Times.