Tear gas used on Malaysian protesters
ELECTION RULES: Police estimated the crowd at 25,000, while the media put it at 80,000, with people demonstrating for reforms ahead of national elections
Police unleashed tear gas and chemical-laced water yesterday at thousands of demonstrators who staged one of Malaysia's largest street rallies in years, demanding fair rules for national elections expected soon.
Authorities were seen detaining dozens of people. Officials said three demonstrators and 20 police were injured.
At least 25,000 demonstrators swamped Malaysia's largest city, hoping to pressure Malaysian Prime Minister Najib Razak's ruling coalition — which has held power for nearly 55 years — to overhaul electoral policies before polls that could be held as early as June.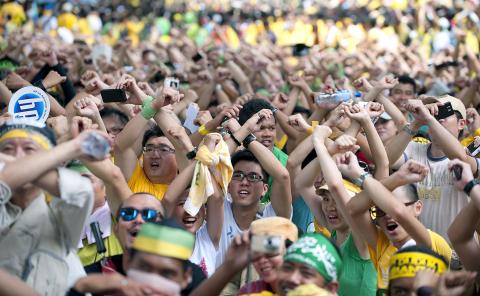 Protestors shout slogans near the historical Merdeka Square in Kuala Lumpur yesterday.
Photo:AFP
Authorities say the elections will be free and fair, rejecting activists' claims that the Election Commission is biased and that voter registration lists are tainted with fraudulent names.
Demonstrators wearing yellow T-shirts, waving banners and chanting slogans poured into downtown Kuala Lumpur, massing near a public square that police had sealed off with barbed wire and barricades.
"I'm here because I'm a Malaysian and I love my country," information technology manager Burrd Lim said. "There's no election that's perfect, but I want one that's fair enough."
Authorities had refused to allow an opposition-backed pressure group that organized the rally to use Independence Square, a nationally renowned venue that hosts parades and patriotic celebrations.
The demonstration remained peaceful for several hours, prompting organizers to declare it a success and ask people to head home, but when a small group appeared to suddenly breach the police barriers, authorities began firing tear gas and water laced with stinging chemicals at the crowd.
Baton-wielding police backed by trucks mounted with water cannon sporadically fired tear gas at some demonstrators for at least an hour before much of the crowd was dispersed. People fled into streets and stores nearby, leaving shoes, bottles and other belongings scattered on the ground.
Authorities were seen detaining dozens of people, with Malaysian media reports saying as many as 60 were arrested. Police said one protester snatched a pistol from its personnel during the chaos, though the weapon was later recovered, and others destroyed public property.
Video footage by independent news Web site Malaysiakini showed angry demonstrators overturning a police car that allegedly hit two people.
Malayisian Home Minister Hishammuddin Hussein said 20 policemen and three demonstrators received treatment for unspecified injuries.
He said that police acted "with utmost restraint," but opposition leaders and rights groups said the use of tear gas was unjustified.
"By launching a crackdown on peaceful protesters on the streets of Kuala Lumpur, the Malaysian government is once again showing its contempt for its people's basic rights and freedoms," said Phil Robertson, Human Rights Watch's deputy director for Asia.
Malaysian federal police spokesman Rasdi Ramli estimated there were about 25,000 demonstrators, but many witnesses and some Malaysian news organizations said there were far more.
Malaysiakini said there were 100,000, while the Sun newspaper estimated 80,000.
The rally's organizers want longer election campaigning periods, changes to ensure citizens living abroad can cast ballots, international observers for the polls and fairer access for all political parties to the government-linked media.
Comments will be moderated. Keep comments relevant to the article. Remarks containing abusive and obscene language, personal attacks of any kind or promotion will be removed and the user banned. Final decision will be at the discretion of the Taipei Times.